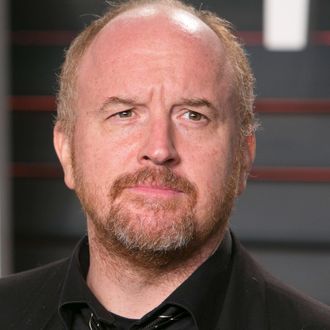 Photo: ADRIAN SANCHEZ-GONZALEZ/AFP/Getty Images
Following last month's New York Times report detailing multiple allegations of sexual assault by Louis C.K., the distributor behind his new movie I Love You, Daddy has not only decided to scrap the film's release, but they're also selling rights to the film back to C.K. According to Deadline, The Orchard has confirmed they're "wrapping up a deal" to sell the rights to C.K., having originally acquired the movie at the Toronto Film Festival for $5 million. Here's more from Deadline's report, including a small update regarding the lack of involvement of C.K.'s former manager Dave Becky:
C.K. will reportedly pay back any money received from that MG as well as any marketing costs (~$500K-$1M) incurred by The Orchard. As a result, The Orchard will not incur any financial setback from the return deal. Such money spent includes a brief awards mailing numbering 12K DVD screeners to AMPAS, SAG, Golden Globes and Critics' voting members. C.K.'s attorneys at Sloane, Offer, Weber & Dern have been working on the deal with The Orchard. C.K.'s 3 Arts manager Dave Becky, who is named as a producer on I Love You, Daddy, hasn't been involved in the return deal as he dropped his client following the scandal.
It's unclear what C.K.'s plans are for the film, including the possibility of releasing it on his website like he has for past projects like Horace and Pete. In any case, the film has mostly been panned by critics who have seen it and currently has a 36% rating on Rotten Tomatoes. Here's an excerpt from Joe Berkowitz's review over at Fast Company, titled "In A Post-Weinstein World, Louis CK's Movie Is A Total Disaster":
Is I Love You, Daddy even a good movie? I don't know. Maybe if the 2017 audience knew absolutely nothing about the Weinstein scandal or Louis CK's personal situation, they could evenly assess. It's not Louis CK's fault that the former is currently unfolding, but it seems intentional that it brings into sharp relief his own reputation. He sat through however many takes of Charlie Day pretending to masturbate in front of Edie Falco, knowing full well who it would remind people of: himself. He just probably never predicted his personal baggage would be so relevant to the national conversation when the movie came out. Now, he can no longer pretend that his baggage doesn't matter, and neither can we.