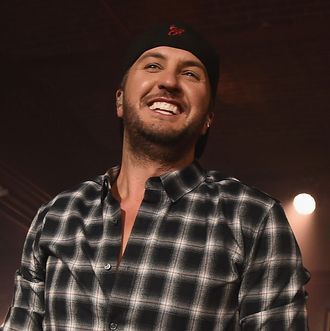 Um, okay, cute?
Photo: Theo Wargo/Getty Images for Pandora
While you were sitting around Christmas morning waiting for a puppy with a bow on it to materialize, Luke Bryan was busy gifting his family wildlife from the outback. As a present, Bryan gave his wife Caroline "two designer bags" which is country bro code for two baby kangaroos. As in two actual living, breathing joeys casually handed to her by Bryan in a sack. Um, okay, cute, but is that even legal? The laws on keeping wild animals as pets vary state to state; Tennessee, where Bryan and his family live and will keep the kangaroos, does not regulate the private possession of certain wildlife like kangaroos, according to Born Free USA. (Georgia, meanwhile, considers kangaroos "inherently dangerous." The more you know!)
Um, okay, cute, but is it ethical? According to Australia's National Kangaroo Protection Coalition, gray and red kangaroos are often bred as pets in the U.S. and Canada, but that their death toll is "very high" because they tend to be kept in captivity in small areas and veterinarians abroad are generally not trained to treat kangaroos. They also note that kangaroos should not be mixed with domestic animals and can't be house trained. So no pee-pee pads here.
Comments on Bryan's photos of the gifted kangaroos — which they've named Margo and Todd — have drawn accusations of animal cruelty for separating the joeys from their mother and keeping them indoors. Bryan has not yet responded, but noted that they will be raised as part of Brett's Barn, the farm he and his wife launched this year in honor of her late baby niece. Um, okay, cute, but just wait until Margo and Todd get brolic enough to break free (and break Bryan's face). The Young Pope can't save you now.