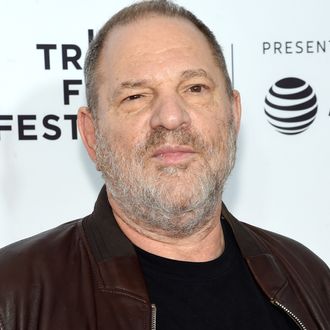 Photo: Jamie McCarthy/Getty Images for Tribeca Film Festival
Embattled producer Harvey Weinstein and his former production company, the Weinstein Company, have been hit with another lawsuit, this time from former Marco Polo associate producer Alexandra Canosa. According to The Hollywood Reporter, Canosa is suing Weinstein and TWC for $10 million. The suit, which was filed in New York Supreme Court on Wednesday, accuses the movie mogul of "sexual harassment," "battery," and "assault."
The suit alleges that the misconduct occurred "in conjunction with Plaintiff's employment, in various capacities, for Harvey Weinstein and The Weinstein Company." Canosa claims that the abuse took place while she was working on the Netflix series up until September of 2017, shortly before dozens of women came forward to accuse Weinstein of sexual misconduct. The suit adds:
"Harvey Weinstein threatened Plaintiff and made it clear that if she did not succumb to his demands or if she exposed his unwanted conduct there would be retaliation, including humiliation, the loss of her job and any ability to work in the entertainment business."
The suit also cites unlawful complacency on the part of TWC. It reads, "The Weinstein Company and the members of its Board of Directors, knew or should have known about Harvey Weinstein's conduct, and did not act to correct or curtail such activity."
Weinstein and TWC are currently facing several other legal battles, including a class-action lawsuit and an actress suing the company over criminal negligence.