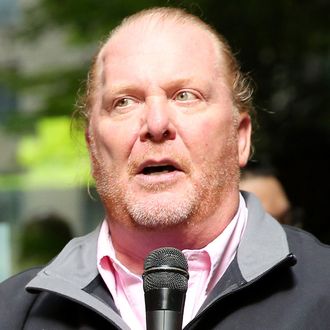 Photo: Monica Schipper/Getty Images for NYCWFF
This week, numerous women have accused celebrity chef Mario Batali of sexual harassment — the most disturbing account perhaps being the alleged presence of a restaurant "rape room" in Manhattan that Batali took advantage of — allegations that Batali said "match up with ways I have acted." He has since been fired from his popular ABC series The Chew as a result, and he's also stepping away from his $250 million restaurant empire. However, before he recedes from public life, Batali decided to send one last e-letter to his fans and subscribers about how he's planning to move forward. It starts off … fine: "I have made many mistakes and I am so very sorry that I have disappointed my friends, my family, my fans and my team. My behavior was wrong and there are no excuses. I take full responsibility," he wrote. "I will work every day to regain and respect your trust." But then he had to throw in a recipe. A holiday recipe.
"In case you're searching for a holiday-inspired breakfast," he concludes, "these Pizza Dough Cinnamon Rolls are a fan favorite." Sounds perfect with a side of Ignorance and Male Privilege.