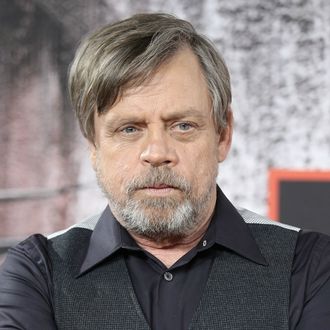 Mark Hamill.
Photo: Mike Marsland/Mike Marsland/WireImage
What's the opposite of a holiday miracle? A holiday functional Death Star? While you spent your weekend in the theater, The Last Jedi star Mark Hamill and Republican Senator Ted Cruz squabbled on Twitter after Hamill criticized FCC chairman Ajit Pai's anti-net-neutrality "viral" video. Tweeted the actor in part, "Cute video Ajit 'Aren't I Precious?' Pai but you are profoundly unworthy 2 wield a lightsaber." In Pai's recent promo, the chairman joked about selfies, fidget spinners, and Star Wars, among other pop-culture references, in an effort to reassure voters that they'll still have access to all their favorite things once the Obama-era regulations protecting net neutrality have been dismantled.
Republican Senator Ted Cruz subsequently came to Pai's defense with a very unique understanding of the main conflict of the Star Wars film series. "Luke, I know Hollywood can be confusing, but it was Vader who supported govt power over everything said and done on the Internet," Cruz tweeted at Hamill. Pointing out that Cruz misspelled his Twitter handle, the actor theorized as to why the senator might have made such a mistake. "Maybe you're just distracted from watching porn at the office again," the Star Wars actor joked back. As you'll recall, in September Cruz blamed a staff member for accidentally liking a porn clip from his Twitter account, an incident that, now that you've been forced to remember it, truly makes you wonder if Darth Vader has been behind this whole thing the entire time.