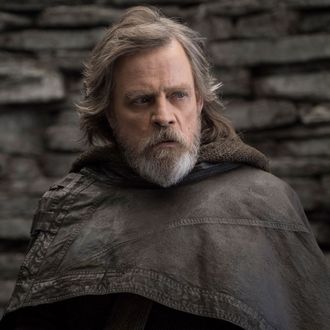 Mark Hamill.
Photo: John Wilson/Lucasfilm
In recent interviews, The Last Jedi star Mark Hamill seemed to some to be coming down pretty hard on the version of his classic Star Wars hero found in director Rian Johnson's new film, expressing surprise or even shock at Luke Skywalker's new character arc. However, as with many beloved/hotly debated film franchises, doubt or hesitance at a cinematic universe's new direction doesn't necessarily mean the film's stars want to throw the baby (the baby being The Last Jedi) out with the bath water (the bath water being, of course, green alien-seal breast milk).
Just to make that particular point clear, Hamill made it explicit on Twitter Tuesday evening, telling followers, "I regret voicing my doubts & insecurities in public. Creative differences are a common element of any project but usually remain private." He added, "All I wanted was to make good movie. I got more than that-@rianjohnson made an all-time GREAT one! #HumbledHamill." Great. Now that that's settled, fans can move on to the much more important debate: Are we hoping for a mere fish-nun spinoff or are we talking a full-blown FNCU?