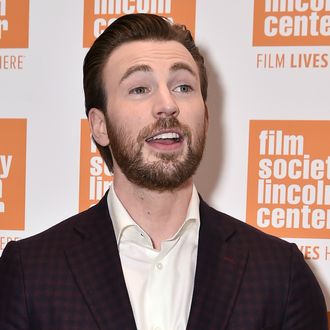 Chris Evans.
Photo: Theo Wargo/Getty Images
Late last week, a heartbreaking anti-bullying video made by the mother of Keaton Jones went viral on Facebook and Twitter. In it, the Knoxville boy recounts how his classmates insult him and throw food on him at lunch. "Just out of curiosity, why do they bully?." he muses, sadly concluding, "It'll probably get better one day." Hopefully Keaton considers today that day, now that Chris Evans, Mark Ruffalo, and Mark Hamill (among many, many other well-wishers including Katy Perry, Snoop Dogg, and Millie Bobby Brown) have reached out in support. "Keaton-Don't waste time wondering why a bully would be so mean-They're sad people who think hurting others will make them feel better because they really don't like themselves," tweeted the Star Wars star on Sunday. "They're just jealous because you're so smart & handsome. <3 Your friend-mh."
Along with their sympathy, Evans and Ruffalo also offered Keaton a pretty sweet pick-me-up, specifically an invite to the premiere of Marvel's Avengers: Infinity War this coming spring. Tweeted Evans, "While those punks at your school are deciding what kind of people they want to be in this world, how would you and your mom like to come to the Avengers premiere in LA next year?" Echoed Ruffalo, "Can't wait to meet you in person, pal. Forget those ignorant kids. One day, very soon, they are going to feel pretty stupid for this." Oh, you have to assume they already do.