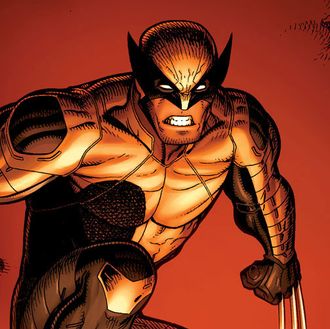 Wolverine, whom you won't see, per se.
Photo: Marvel
Marvel prides itself on being a cross-platform brand. The company has told its stories through comics, movies, television, video games — and now, podcasts. The Disney subsidiary just announced that it's partnering with digital audio provider Stitcher for a ten-episode scripted podcast called Wolverine: The Long Night. Written by comics scribe Benjamin Percy (Green Arrow), the story will follow two law-enforcement agents (Ato Essandoh and Celia Keenan-Bolger) as they investigate a series of murders in a small Alaskan town alongside a local deputy (Andrew Keenan-Bolger). The prime suspect? Well, that'd be grumpy ol' Wolverine, who will be voiced by The Hobbit's Richard Armitage.
The series will also include veteran character actors Scott Adsit, Bob Balaban, and Brian Stokes Mitchell. Percy says the series will resemble nonfiction true-crime podcasts like Serial and S-Town, as well as True Detective, but that it's also likely to draw upon plot elements from the title character's long comic-book and film history. Debuting in spring 2018, The Long Night is a first for the ever-expanding superhero business, and it'll be interesting to see whether competing companies — especially blood rival DC — start drafting their own scripted podcasts. There's a long tradition of genre storytelling being put into the theater of the mind (just tune in to any number of BBC Radio Doctor Who tales, for example), so perhaps it was only a matter of time before spandex went auditory.