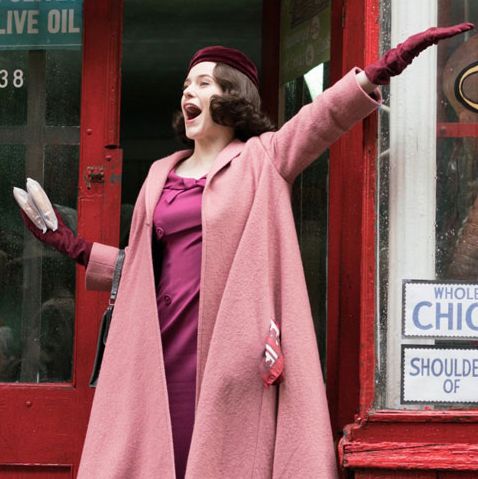 Photo: Sarah Shatz/Amazon Prime Video
With all of the TV shows with standout soundtracks this year, it was a particularly welcome surprise to end 2017 on a sonic note that harkened back to the 1950s. 1958, to be precise: In The Marvelous Mrs. Maisel, co-creators Amy Sherman-Palladino and Daniel Palladino created a diverse musical world that's not only as meticulous as their fast-paced dialogue, but one that's whip-smart with its choices and cues. (Robert Preston talk-crooning, "Friends, the idle brain is the devil's playground!" while Midge Maisel's estranged husband contemplates his new vapid girlfriend is a particular highlight.) Last week, Vulture gave the Palladinos a call to learn more about how this toe-tapping soundtrack came to be.
The late 1950s had jazz, early rock and roll, and so many tunes out of the great American songbook. How did you approach and shape the show's musical identity?
Amy Sherman-Palladino: My husband has a mental problem when it comes to music. He's a bit of a savant, and I'm at times concerned with him. We have an incredibly extensive music library at home because he has everything. It's very weird. Music has always played a very big part in everything that we've written. It was very vivid on Gilmore Girls, too, back when it was actually a lot easier to get music, before everyone started licensing everything.
Music has always been a little like a character to us. I put certain touchstones and songs in the show because I wanted Amazon to understand the vibe of the scenes. Barbra Streisand's "In Old Peking" was always in there, as was Anthony Newley's "A Wonderful Day Like Today." They had an exuberance and energy that talked about who Midge is. She's an exuberant and energetic character, and she looks at life like, "It's a wonderful day! I'm up, my dress looks good, my makeup is perfect!" I've been listening to that Barbra Streisand album ever since I was a little kid, because it's something my parents had in the house. "In Old Peking" always stuck with me. It's a song about madness, and when Midge goes to the Village, it's like going into a wonderland. There were certain touchstone songs for each script we wrote that meant something significant. We think, "How do songs help inform characters in the story?" as opposed to, "That's a nice song in the '50s, let's just put it in." We weren't looking in that way.
Daniel Palladino: Everything means something, whether it's lyrics or just the mood of the song. We willingly cheat sometimes — I think "In Old Peking" was recorded by Barbra post-1958. But it still evoked the era. We also felt that upbeat Broadway tunes, both obscure and well-known ones, worked well. Amy and I write scripts musically. Our pace lends a musicality to the dialogue.
ASP: And we shoot the shows with camera moving all the time. It's not a static show. The cameras are constantly moving and the people are constantly moving and talking. The music has to mimic that same feel.
Did any musical motifs follow each character throughout the season, or was it more narrative-driven? I recognized the lovely Peggy Lee accompanying many of Midge's exploits.
ASP: Maybe not per character, but it was more of what the content of the scene was. For Midge, we wanted exuberance. Sometimes a lyric spoke to us, like Blossom Dearie's "A Gentleman Is a Dope." It was a perfect first line. It was more about what the characters were going through. Obviously, we have backstories for characters. For Rose, she went to Paris when she was young and France spoke to her soul, so a lot of the music she listens to is Édith Piaf and '50s French pop music. It was really more story and less, "This person would listen to this, and this person would listen to that."
DP: Although it's part of it. We really think about what people's likes are, because it helps us define the characters. Like what Amy said, Rose loves Édith Piaf because it reminds her of her Parisian phase. For Abe, he's a classical pianist and a mathematician. Those two often go hand-and-hand. We also thought he would listen to some jazz, because that's very mathematical. But he would almost definitely hate rock and roll and Elvis Presley. We make a lot of decisions like that. And honestly, we never quite get finished making all of the decisions for the characters, because different stories bring up different context for different reasons.
ASP: Also, these characters are evolving. At the very beginning, Midge's musical tastes are going to be a little more square. She got married very young. Rock and roll is now coming in, but rock and roll when you're 26 and have two children is different than being 26 and being single. Now that she's single again and befriending the new girls she's working with, the music is a little more youthful and rock and roll. Her character can experiment with her own musical taste now that her life has shifted.
DP: You wouldn't see Midge listening to Ricky Nelson in an earlier episode, to put it that way. We're not sure she would even know Ricky Nelson. They would know Jo Stafford and Doris Day and all of the big band singers. And of course Frank Sinatra, who had that big run in the '40s and then heroically returned in his Capital Records era. Sinatra's very big for anyone in their 20s and 30s back then.
ASP: The timeframe also allowed us to discovered so many interesting artists. We discovered the Barry Sisters, who were sort of the Andrews Sisters of the Jewish set. We used a couple of their songs, which are unbelievable songs. They have a forceful musicality to it, which we got to experience because we're dealing with a 1958 Jewish family, and that's a group they would know. I didn't even know about them until I wandered into Amoeba Music and saw a used vinyl that featured them.
What about the sound you wanted for the Gaslight? Were you consciously choosing music that was more "uptown" or "downtown" in flavor?
DP: The music in the clubs downtown was so specific. Dylan was a few years away, and Simon & Garfunkel were just starting off as Tom & Jerry. Back then at these clubs, the folk singers, the comedians, and the jazz musicians all hung out and made each other laugh — they were all so personable. We kept that in mind. When Joel and Midge go downtown, they're intrigued by the folk scene. They would probably be intrigued by Dylan, although it would be still a foreign thing for them.
ASP: It may not be something they take home with them. When we're at the Gaslight, we wanted guys playing folk music and a lot of jazz, because there was a big jazz scene down there. We don't play Sinatra when we're downtown. We keep that as uptown as possible.
What do you think are the defining musical moments of the season? I personally loved Sutton Foster's rendition of "I Enjoy Being a Girl" that opened the fifth episode.
DP: That was a big song. We actually had Sutton record it for an interesting reason. We were thinking of using existing versions of it, but we were reminded that those versions are much slower than we remember. They were medium-paced, and we needed something faster-paced. Probably the most obscure thing we put in, and perhaps my favorite, was in episode three when Abe visits Moishe in his clothing factory. I picked a song that's from a very obscure soundtrack that I listened to as a kid, it's from a Broadway show called Tenderloin, which is about New York City. The song had a full refrain of "What's in it for you, what's in it for you?!" I'm very, very fond of that one. Lyrically, it spoke perfectly to what the scene was. The pilot also had several defining tunes that set up the DNA of how we were going to continue on musically. "A Wonderful Day Like Today" is the perfect start that was in Amy's script when she wrote it, just like "In Old Peking."
ASP: And Peggy Lee's "Pass Me By." I'll also add over the montage where Midge is moving out, which is set to Barbra Streisand's "Happy Days Are Here Again." There's something about that song to me — it's these very happy lyrics and this very sad orchestration that perfectly goes with the very happy flashbacks and very sad dismantling of her life.
The closing credit sequences often broke the '50s aesthetic into something more modern. Why did you choose to do that?
ASP: That's a conscious decision. Sometimes we don't do it — a few times we play through what was going on in that last scene and you have to honor the drama first. To us, Midge is a character that we always wanted young girls to like and relate to. A different decade shouldn't change that feeling. To me, that's another aspect of what this character represents.
DP: It points the viewer forward. We're trying to be careful to use the music and emphasize that we don't want this show to feel like it's locked in time or locked in a precious box for people to look it. We wanted it to feel like something that's happening now, but it was happening in 1958. That burst of music at the end points a few decades into that future.