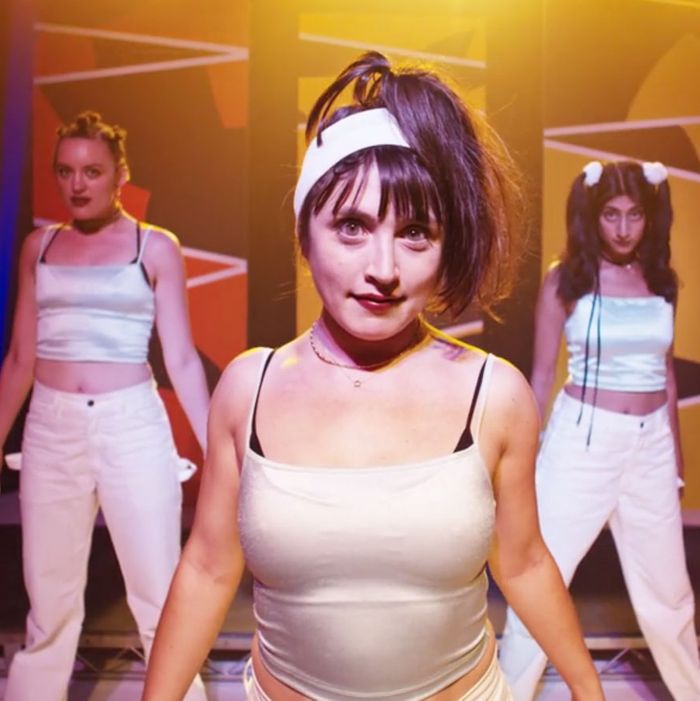 Photo: Executive Produced by The Daniels /Topic
It's hard to know how to start talking about Snowy Bing Bongs Across the North Star Combat Zone, a 40-minute film of an indescribably comedic ballet of sorts that is about farts and beach balls and the business of show, and is possibly the most funny and delightful thing I saw all year. So about halfway through my conversation with Cocoon Central Dance Team, the trio that are its creative driving force, I do what anyone does in a moment of doubt, and invoke Beyoncé. Specifically, the 2011 video for "Countdown," a zippy, retro-tinged technicolor confection that borrows from Audrey Hepburn in Funny Face and Belgian choreographer Anne Teresa de Keersmaeker's contemporary dance piece Rosas Danst Rosas. I had been watching the Beyoncé clip earlier that week for no particular reason, as one does, and it felt relevant in a way I couldn't quite put my finger on.
As soon as I mention it, there's a burst of affirmation from the trio. "Oh hell yes," Eleanore Pienta declares. There's a kind of classical competency on display in both pieces; Beyoncé uses it to make you swoon, Cocoon uses it to make you gasp with laughter. Pienta, Sunita Mani, and Tallie Medel have been dancing and choreographing as Cocoon Central Dance Team for nearly a decade, and the almighty Bey was an early part of their repertoire, in spirited, inexplicably hilarious performances at house parties and improv theaters around New York City. Throughout it all, that commitment to putting on a goddamn show has been a constant.
Since Bing Bongs made its streaming debut on Topic.com last Friday, Cocoon Fever, to quote the film, has truly begun sweeping the nation. (Sample tweet, from Jenny Slate: "I want to watch this all the time all day i love these people (i don't know them but i love them hi guys hello i love your work)"; another from John Early, who's collaborated with the troupe: "MY FAVE MOVIE OF THE YEAR IS NOW STREAMING!!!") None of its reception is what you could exactly call predictable — when was the last time the comedy world collectively obsessed over a dance film? But from its opening scene, the joy of Bing Bongs is being welcomed into its positive, psychedelic sensibility, a pure physical silliness that's completely unconcerned about any conventional ideas of how three women dancers should move and exist in space.
"It's been unbelievably gratifying, because what we started out doing in our fucking apartment was for us," Pienta says. "It was for joy, it was the thing that we fucking loved. And so to hear people get that joy out of Snowy Bing Bongs is like, 'great! We're doing it!'"
"I think physical comedy really dignifies an audience," Medel says, of the film's appeal. "I think it appeals to everyone's intelligence. In all of its dumbness, it can be really welcoming."
"Just to get to people's' centers, like their tickle-spots or whatever," adds Mani.
"And that it crosses generations is amazing," says Pienta. "That's also the joy of using your body. It's like, everyone has a fucking body."
The trio met as students at Emerson College in Boston, a breeding ground for comedy writers and stand ups, as well as Bing Bongs executive producers Daniels (Swiss Army Man, Greatest Music Video of All Time candidate "Turn Down For What"). They all studied or shared a background in dance, Pienta tells me, and thus a similar sense of rigor that wasn't necessarily shared by the rest of their peers. "[Sunita was] on a competition team, Tallie was in — "
"I was a star," Medel interjects with faux-faux-modesty and a flutter of her eyelashes.
Pienta sighs. "She was … Clara … in —"
"I was Clara in The Nutcracker. Please write it down. Ketchikan Theater Ballet. 1996."
When the trio moved to New York after college, they shared a two-bedroom cockroach-ridden Sunset Park apartment, which they kept mostly free of furniture so as to have more room to move in. The ability to goof around and choreograph in the comfort of their home was a much-needed support system during the early days of trying to crack into show business.
"We'd already been established among our friends in Boston as women who could improvise and do sketch comedy," says Medel. "But this dance aspect was something that none of them had ever seen us do before — this secret where we all knew how to choreograph." The housemates would host parties and DIY comedy shows in their living room, which is where the first-ever Cocoon performance took place. "I do think that we kind of blew our buddies away with the professionalism of this stupid dance that we did," Pienta says. The group took its name from their go-to first position, in which all three women would huddle up. But that protective, supportive gesture informed the whole act. "It was a cocoon in the sense that we were like, in our own little tank of giggles," Mani says. "When you're out of that vacuum, you're like 'wait, what is this?'"
Once the team started doing live shows, Mani says, "We raised the bar really high." Pienta sewed elaborate costumes, and they would spangle their faces with stick-on crystals and fake lashes, always preferring to err on the side of looking like they were trying too hard. "We put everything into it because we had nothing else really going on yet, but also because it made us so happy," Medel says.
"We were like, 'Well, if we're going to show our vaginas to the world' — " Mani catches herself with a nervy laugh. "Not literally, but it was that private — 'If we're going to show our privates to the world, it has to be so unstoppable you're going to have to like it. Or at least appreciate it.'"
With the release of Snowy Bing Bongs, they're showing their privates to a whole new world. What started as an hour-long live show in 2015 was adapted by Cocoon friends and filmmakers and friends Rachel Wolther and Alex Fischer into a series of sketches and monologues, woven together by the arc of the titular Bing Bongs battling giant beach balls in an arctic wasteland. "It was such a lucky collaboration, because they really, unspokenly, just turned it into a script," Mani says. "I don't know how to describe it, because it feels like that's rare."
Mani is joining us on speakerphone from the set of the second season of Netflix's original series GLOW, on which she is a series regular, and Pienta and Medel tell me that the once-inseparable roommate/dancemates haven't seen each other in about a month. But despite their increasingly busy schedules, Cocoon remains a very necessary going concern in their lives, a home base to come back to for inspiration. "Here in L.A. I'm just like, 'Thank God I have a voice and a sensibility that was totally carved out with Cocoon.'" says Mani. "I feel like I am a better person and performer because of Tallie and Eleanore. So when we go away and work on other stuff, it feels like we have a strong, familial voice, and when we come back we're like 'OK, we're back around the campfire.'"