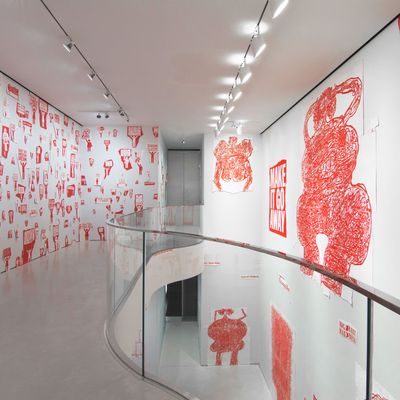 Installation view of "Michael Landy: Breaking News — New York," on view at Sperone Westwater through December 20.
Photo: Robert Vinas Jr. 2017 / Courtesy the Artist and Sperone Westwater, New York
The artist Michael Landy spent two years making hundreds of drawings in red and white — "the colors of danger," as he notes — for his current exhibition at the Sperone Westwater gallery, called "Breaking News." He'd done earlier versions of the project in London and Athens, but for the New York show he was, he says, "inspired by Donald Trump when he talked about building a wall, so I thought I'd build wall of protest." It's a strange, somewhat bewildering accumulation of the particular urgency many of us feel today to be personally identified with what we see as necessary change: to stand up and make yourself, your body, bear the message, whatever the message is. It's an older urge than #activism, certainly, but they go well together: In the age of social media, a pithy sign easily becomes a viral selfie which can, if not necessarily change the world, at least make it click "like" and hope for the best. Below is a slideshow of his drawings of actual protest signs. The exhibit runs until December 20.