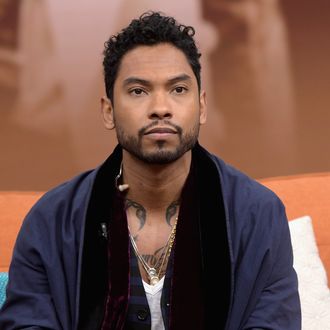 Photo: Gustavo Caballero/Getty Images
Miguel has issued a statement denying allegations of sexual misconduct which date back to last March but recently resurfaced in a Spin article. A woman named Xian Bass first publicly wrote about her alleged experience on Instagram with a picture of her with the singer. She wrote in her post that, after she took the picture with Miguel, he sexually assaulted her. "After we took this photo, you took it upon yourself to grab my breast and remove it from my shirt WITHOUT CONSENT," Bass wrote. "You then proceeded to look at my naked breast with such a disgusting look on your face."
The allegations did not receive much publicity at the time, though TMZ did approach Miguel about the allegations. He told TMZ, "People are really looking for attention in the wrong ways." He added, "In this age, I guess, you just gotta be more aware of how things can be and how things can be spun."
In Spin's in-depth profile of Miguel, the publication spoke to Bass about her earlier claims. Bass revealed that she had reported the incident in California to the Barstow Police Department, which, in turn, confirmed to Spin that it had investigated her claims. According to Bass, since the alleged incident happened at a Los Angeles venue in a more secluded area, out of sight of witnesses, the police investigator told her that "other women have to come forward" with allegations to take action against Miguel.
Miguel responded to the allegations with a statement:
I felt I had already addressed how bizarre and twisted this accusation was when I was asked about it in March. Her story of what transpired is not accurate and the accusation is unfair and unwarranted.