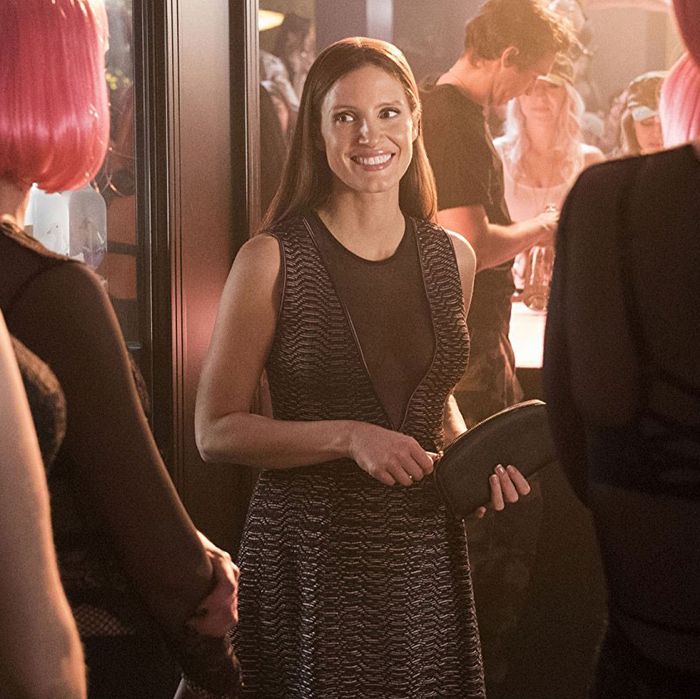 The first time Molly Bloom walked into Barneys, the sales associate thought she was a sex worker. Dressed in a Denver Broncos sweatshirt and cut-offs, the ex-athlete from Colorado was trying to fit in at a new night gig that had her rubbing shoulders with Tobey Maguire and Ben Affleck: running the numbers for an exclusive poker game at the Viper Room. It wasn't exactly the environment for what she considered her "best look" at the time — a floral dress from J.C. Penney that her new boss referred to as "ugly." So, to Barneys she went, in search of something shorter, tighter, and sexier. Once she found a dress she liked, she paid in cash (because that's how the poker players tipped her). Cue the eyebrow raises.
Molly's Game, written and directed by Aaron Sorkin, tells the story of Molly's (Jessica Chastain) rise, fall, and eventual redemption in the high-stakes world of celebrity poker. But the sleek minidresses and evening gowns Molly wears throughout are as important to the story as the costumes from Gossip Girl or The Devil Wears Prada: Running the world's premiere "decadent man cave" requires a strict uniform of cleavage-baring dresses and sharp blazers, dressed up for professionalism, but also designed to appeal to the male gaze. The movie's parade of looks comes courtesy of costume designer Susan Lyall, who either found, designed, or tailored the costumes for Sorkin's label-conscious heroine. "I spoke to Molly a few times, and obviously appearance is very important," Lyall tells Vulture. "We talked a little bit about how she judged what was an appropriate thing to wear. She was kind of concerned about always looking a little bit businesslike — even if she had a plunging neckline, she'd throw on a blazer, just some element to suggest no-nonsense."
The final costume count ended up being a little over 90, with about 70 dresses. "Aaron made it very clear that she should always be incredibly sexy," says Lyall. "The real Molly Bloom claims to have never worn the same outfit in front of the same players. Thus every game Jessica had to have a different costume."
Below, we lay out exactly how Lyall turned Jessica Chastain into Molly Bloom.
Amplify the cleavage
Chastain spends scene after scene in dark dresses with deep Vs or push-up bras — or both. But Lyall made sure it was never too much. "There were a lot of things we had to check off to make each costume appropriate: Was it sexy enough, which is a very subjective thing? In our case, that usually meant was there enough cleavage showing, but without looking trashy," Lyall says. "She always had cleavage at a game. When she met with her attorney or someone else or was at her real-estate office, there wasn't so much. But it was like going to war, like putting on her armor."
Sequins improve everything
One of the movie's greatest dresses is a strapless pink DSquared minidress that Molly wears when she pulls over on Sunset Boulevard to take a call from a disgruntled player. "That dress was saved for that moment," says Lyall. "We went back and forth, but Jessica thought it would be really strong to use in the shot on Sunset Boulevard standing outside the car." In real life, Molly wasn't so into sequins, Lyall says, but it was an effective way to keep the parade of Jessica's black dresses interesting. The early games that Molly runs for her boss are set in the Viper Room's dimly lit basement, and a little glitter helped her stand out. "[Sequins are] more photogenic," Lyall adds. "It brings the attention to her a little bit, it just gave her more life."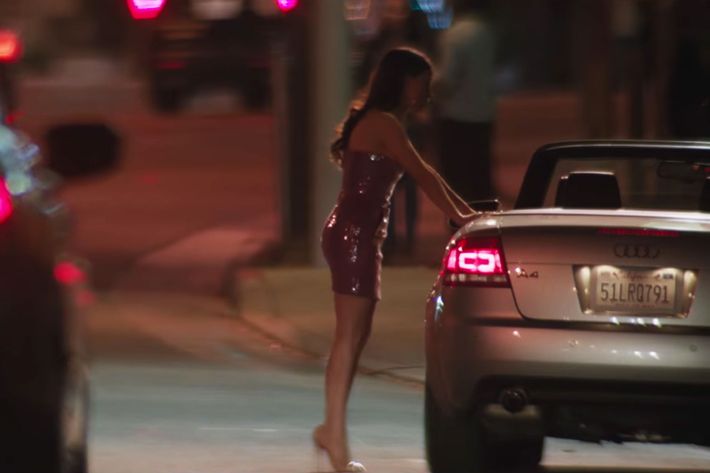 Reading the room
In order to keep her poker table stacked with movie stars, finance bros, and pros, Molly has to recruit players everywhere, from glitzy benefit dinners to the aggressively beige Commerce Casino, lit by harsh fluorescent lights. One of the real Molly Bloom's greatest gifts was adapting her style to any environment — even a casino in the suburbs. It was something Lyall wanted to re-create for the film. "She was good at her camouflage. She was bringing just enough attention to herself. She goes in once wearing a coral-colored top and jeans. Just a pretty woman going in there, she wasn't overdressed, she wasn't underdressed, just strikingly dressed," Lyall explains. "It's definitely a conscious decision on her part to both fit in, and yet catch the eye of the guy overseeing the whole place."
Don't fear frills
Maybe the most important dress in the movie is the one Molly wears to pitch her big game. All of her men arrive to a suite at the Peninsula, and Molly calls them all to attention: She's starting a new game with the same top-level service; play tonight and you're guaranteed a chair for a year, or leave now and there's no hard feelings. Initially, Lyall wasn't into the dress — nude with black ruffles on the front — but Chastain insisted on it. "I thought it was a sort of ridiculously feminine dress, but it just nailed it! I thought at first that it was too much, but Jessica loved it," Lyall says. "She thought it was the perfect attention-getting dress to keep all men's eyes on her while she made that proposal. How could you resist that? It's incredibly calculated."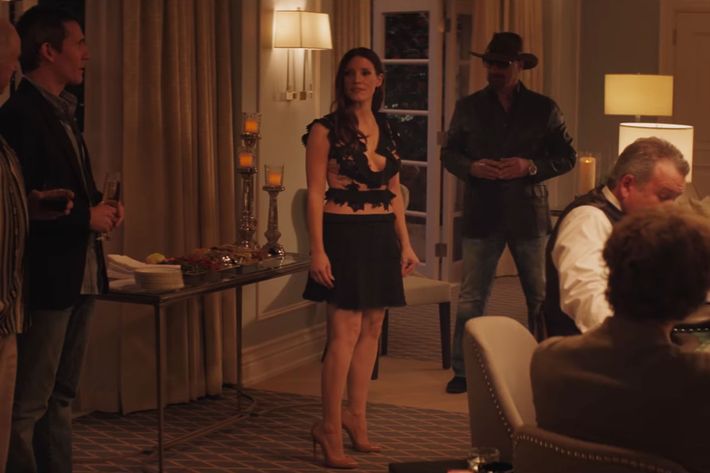 Wear white
Once Molly moves cross-country to New York, everything becomes more luxurious and pricey. No more of those bright Los Angeles colors; instead, in a scene where she's leaving the Plaza after the game, Molly dons a white fur coat. "That fake fur was just a fun fur," Lyall says. "You could hardly see what she had on underneath [in the scene], so the coat had to be something that could read well on camera, read wealthy, and also read nouveau riche. White got that." According to Lyall, white communicates an exclusive, impossibly fancy lifestyle: "If you have a white suit, that means you probably don't really wear it that much, and when you do, a car is picking you up and taking you somewhere and you're never going to get it dirty. We had a beautiful white La Perla suit in the lawyer's office because it looked kind of professional, but clearly she's not a human rights attorney… The business of a white suit is not the business of a navy suit, that's for sure."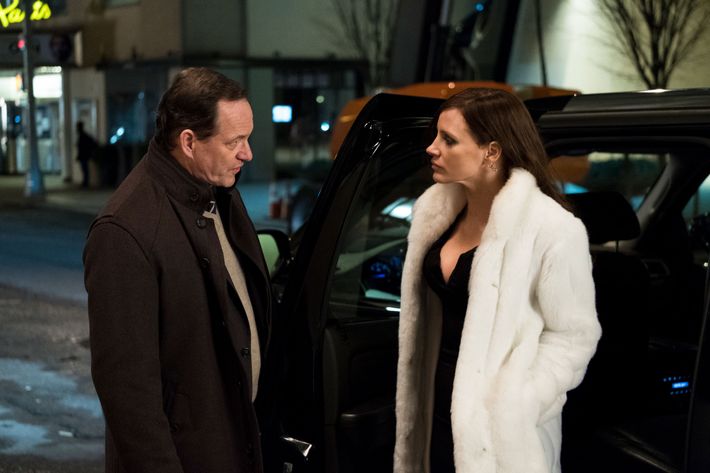 Chanel pearls
A lot of big-name accessories get a shout-out in Molly Bloom's book, which inspired the film. But Bloom's favorite piece was a Chanel pearl necklace — not the single-strand subtle type, but layers of pearls, the kind that inspired knockoffs from J.Crew and Claire's. This necklace, which appears twice in the film, was the hardest item for Lyall to pin down. "In the book, she talks about buying Chanel pearls," says Lyall. "They're the interlocking Cs, they're not subtle." Lyall eventually found them on the internet.
The dark side
Key to turning Chastain into Bloom was marking her transitions: She's nearly a ski pro when she leaves Colorado for Los Angeles, and by the time she makes it to New York, she's taking uppers and downers and staying up all night. The color palette gets darker, and the dresses get a little more severe. Instead of the sequins and bright-pinks and reds from her L.A. days, Molly sticks to dark grays and blacks, with added details that make the whole look feel a little bit gloomier (just like Molly herself).
"She went from dressed to impress to dressed to depressed," Lyall says. "She did get harder — lots of black dresses with heavy zippers, dresses with more hardware … Her makeup got heavier, her clothes got darker, [and the neckline became] oppressively plunging sometimes." But in the movie's present-day timeline — where Molly is meeting with her lawyer (Idris Elba) and preparing her case — she tones it down in muted but luxe Montclair sweaters. "That's a little Azazie Aliya twinset. That look is taken from research," Lyall says. "She looked kind of demure for her sentencing. That was her version of looking respectful of the law. But she still had those pearls on!"