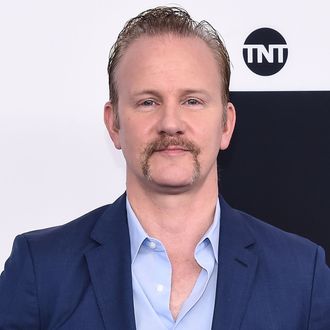 Photo: Daniel Zuchnik/WireImage
Yesterday, Morgan Spurlock posted a lengthy note on Twitter called "I am Part of the Problem" in which he disclosed his own history of sexual misconduct. It included a sexual-harassment claim he settled; a woman's claim that he raped her when they were in college ("There were no charges or investigations, but she wrote about the instance in a short story writing class and called me by name," Spurlock wrote in his post); and a breakdown of his history of infidelity. Now, Spurlock is leaving his production company, Warrior Poets, which will now be run by two of its co-founders, who sent out a note to company employees today.
On behalf of Warrior Poets, we as partners have always supported our company and its endeavors. As of today, Morgan Spurlock will be stepping down effective immediately.

 

We will continue to lead the company as equal partners, producing, distributing & creating from our independent production company.

 

Respectfully, Co-Founder & Partner Jeremy Chilnick and Partner Matthew Galkin
Warrior Poets has produced documentaries such as Freakonomics: The Movie, Rats, and the recent Toronto International Film Festival premiere, Super Size Me 2: Holy Chicken!