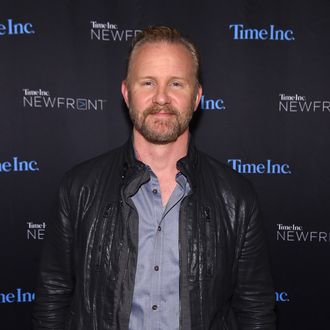 Photo: Jamie McCarthy/Getty Images for TimeInc.
Following Morgan Spurlock's lengthy confessional Twitter post, titled, "I Am Part of the Problem," the future of his Supersize Me sequel is unclear. The documentary filmmaker admitted to a history of sexual misconduct, detailing a workplace sexual-harassment claim he settled ("It wasn't a gropy feely harassment. It was verbal, and it was just as bad."), in addition to revealing that a woman accused him of rape in college ("Not outright. There were no charges or investigations, but she wrote about the instance in a short story writing class."). On Thursday he stepped down from his production company, Warrior Poets, and according to The Hollywood Reporter, the remaining partners of the production company announced on Friday that they were pulling Super Size Me 2: Holy Chicken! from the upcoming Sundance Film Festival where it was scheduled to screen.
This decision came shortly after YouTube Red announced that it would no longer be releasing Super Size Me 2 through its service. The company had bought the rights to the documentary following the Toronto International Film Festival, for $3.5 million. Its release was set for sometime in 2018, but a YouTube spokesperson told THR in a statement:
We feel for all of the women impacted by the recent statements made by Morgan Spurlock. In light of this situation, we have decided not to distribute Super Size Me 2 on YouTube Red.
Additionally, Showtime announced that it is removing Spurlock from his role as executive producer of the upcoming five-episode docuseries The Trade. That show, which focuses on the opioid epidemic, will still debut at Sundance as previously scheduled. TNT has also halted production of an unscripted series Spurlock was producing called Who Rules the World. The nonfiction program was meant to explore "a wide range of women's issues." And in separate Sundance news, the filmmakers behind the upcoming documentary The Devil You Know announced that they would be ending the film's association with Spurlock.
A Sundance Institute spokesperson told Vulture in statement:
We fully support these decisions by the films' teams. We were saddened to read Morgan Spurlock's recent admissions. We empathize deeply with the many people affected — especially the women who were impacted.