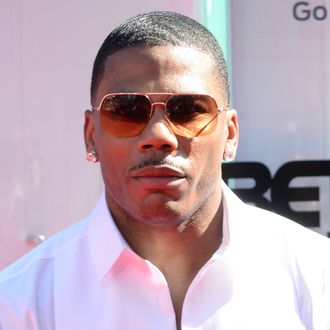 Photo: Earl Gibson III/Getty Images for BET
Two months after Nelly was arrested under suspicion of second-degree rape in Ridgefield, Washington, the King County Prosecuting Attorney's Office decided to drop the case, citing the accuser's refusal to testify in court or to further cooperate with the investigation. Now, lawyer Scott Rosenblum, an attorney for the rapper, says that Nelly wants to take legal action to clear his name, reports Billboard.
The woman who accused Nelly is a 21-year-old college student. She told the police in October that he had assaulted her in his tour bus after the show. A lawyer representing the woman wrote in a letter that she no longer wanted to press charges because, "She believes the system is going to fail her." The attorney alleged that her client felt intimidated by Nelly's legal team.
Rosenblum, however, refutes the claims against his client, and explained in a statement that Nelly was proceeding with litigation as "the first step in restoring his reputation." Rosenblum wrote, "A thorough investigation did show Nelly was a victim of deceitful allegation devoid of credibility. Credible evidence did show this accuser to be deceptive." He also wrote, "Nelly has suffered very real damage to his reputation. He has incurred economic loss and painfully has watched his family suffer."