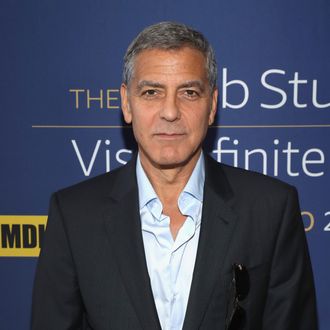 Photo: Rich Polk/Getty Images for IMDb
If you can't get enough of the debate over how the current administration compares to President Nixon's, Netflix might just have the show for you. According to The Hollywood Reporter, the streaming giant is considering green-lighting a mini-series about the Watergate scandal. George Clooney's production company, Smokehouse Pictures, is developing the eight-episode series, with the actor serving as one of the executive producers. The Oscar-nominated Bridge of Spies scribe Matt Charman is set to write.
Clooney, who has been mostly absent from the small screen during this golden age of television, seems to be doubling down on the limited-series game. Last month it was also announced that the former ER star will be directing and starring in a six-episode adaption of Joseph Heller's 1961 novel Catch-22. All this to say: Happy Holidays, moms everywhere.