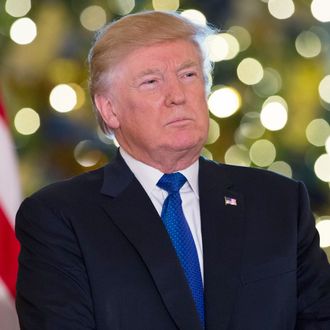 This should be fun.
Photo: Pool/Getty Images
Two new Netflix docuseries plan to uncover the truth about two of the world's most notorious villains: Donald Trump and the food industry. The streaming service has announced that Dirty Money, helmed by Alex Gibney (Enron, Going Clear), will go deep into the world of corporate corruption, including six episodes directed by various filmmakers on different sectors. In an installment titled "The Confidence Man" Fisher Stevens will profile Trump Inc., Donald Trump's real-estate empire. According to a press release, the episode "lays out how Donald Trump's business career transformed from epic failures into a consummate branding machine that propelled him into office." Other episodes will investigate Volkswagen, payday lenders, Big Pharma, HSBC's ties to Mexican cartels, and, in a plot straight out of Riverdale, Canada's shady maple syrup business.
The second new series, Rotten, by the makers of Anthony Bourdain Parts Unknown and The Mind of a Chef, will tackle global food production. The show will feature "Honeygate," the spike in peanut allergies, how American-Chinese trade affects the garlic industry, chicken farming, the dangerous business of dairy, and the setting of every good crime: New England and the region's shady fishing industry. "If you eat food, this an issue you need to worry about," a trailer for Rotten warns. Say hello to the newest doc that'll shame your food ethics! Rotten and Dirty Money premiere January 5 and 26, respectively.