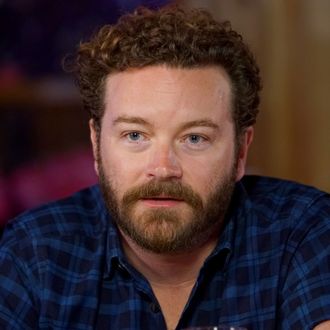 Masterson.
Photo: Anna Webber/Getty Images for Netflix
A day after it was reported that a Netflix executive had unknowingly told a woman who accused Danny Masterson of rape that the streaming service did not believe the multiple accusations against him, Netflix has announced Masterson has been removed from his show The Ranch effective immediately. "As a result of ongoing discussions, Netflix and the producers have written Danny Masterson out of The Ranch," a Netflix spokesperson said in a statement. "Yesterday was his last day on the show, and production will resume in early 2018 without him." Four women have accused the former That '70s Show star of raping them in the early 2000s, sparking an investigation by the LAPD that was launched in late 2016.
His removal comes a day after Netflix announced it will also write Kevin Spacey out of House of Cards' final season following multiple accusations of sexual assault. Many critics and Masterson's accusers had wondered at the time why Netflix had not yet taken similar action with Masterson. The company said in November that it was "aware" of the allegations and investigation, and would respond accordingly. Part four of The Ranch (the second half of season two) is set to premiere on December 15. A rep for the show tells Vulture that Masterson will still appear in those episodes, as well as the episodes he filmed for season three prior to his termination, though it's unclear how many. Masterson also currently appears on the second season of Netflix's Easy.
Update: Danny Masterson has released a statement to the Huffington Post via his attorney saying that he is "disappointed" in Netflix's decision. "From day one, I have denied the outrageous allegations against me." You can read the full statement below:
I am obviously very disappointed in Netflix's decision to write my character off The Ranch. From day one, I have denied the outrageous allegations against me. I have never been charged with a crime, let alone convicted of one. In this country, you are presumed innocent until proven guilty. However, in the current climate, it seems as if you are presumed guilty the moment you are accused. I understand and look forward to clearing my name once and for all.