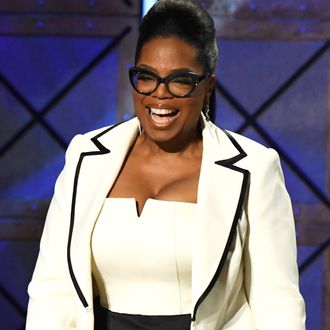 Oprah.
Photo: Kevin Winter/Getty Images
Though the nominees for the 75th Annual Golden Globe Awards were only announced earlier this week, you don't have to wait until January 7 to know that one Oprah Winfrey will be heading home with a statuette. On Wednesday, the Hollywood Foreign Press Association (HFPA) announced that it would be giving the annual Cecil B. DeMille Award to the media mogul. According to the HFPA, the Cecil B. DeMille award is given each year to a "talented individual who has made an incredible impact on the world of entertainment." In addition to hosting her daytime talk show for 25 years, owning her own cable network and magazine, and her charitable work, Winfrey has acted in several films like Selma and Lee Daniels's The Butler. She was previously nominated for a Golden Globe for her performance in The Color Purple.
Past recipients of the Cecil B. DeMille Award include Audrey Hepburn, Barbra Streisand, Denzel Washington, Lucille Ball, Meryl Streep, Sidney Poitier, and Steven Spielberg.