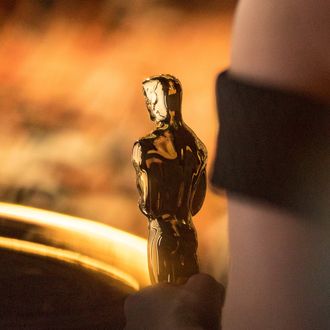 Photo: Christopher Polk/Getty Images
On Wednesday, the Academy of Motion Picture Arts and Sciences sent out a letter to its members affirming a "standards of conduct" that was approved by the organization's Board of Governors. According to Variety, the letter was created by a "specially-formed task force" that crafted the statement after consulting with various experts. The conduct code emphasizes the importance of "upholding the Academy's values," like inclusion, fostering supportive environments, and "respect for human dignity." It adds:
There is no place in the Academy for people who abuse their status, power or influence in a manner that violates recognized standards of decency. The Academy is categorically opposed to any form of abuse, harassment or discrimination on the basis of gender, sexual orientation, race, ethnicity, disability, age, religion, or nationality.
The letter warns that if any member is found in violation of those rather broad standards by the Board of Governors, then the member could face disciplinary action, including suspension or expulsion.
The Standards of Conduct come several weeks after dozens of women and men have come forward to accuse powerful producers, directors, and actors of sexual misconduct. The Academy previously decided to revoke embattled producer Harvey Weinstein's membership.