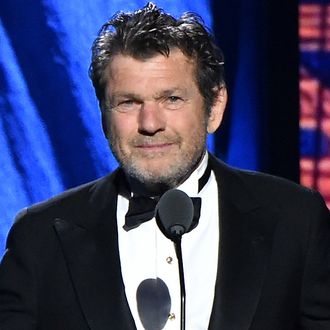 Wenner.
Photo: Mike Coppola/Getty Images
Back in September, the New York Times broke the story that Jann Wenner was finally putting his share of Rolling Stone up for sale. Wenner brought in outside investors for the first time in the publication's history last year, when he sold 49 percent of the magazine's controlling interest to a Singapore-based music start-up called BandLab, with the publication's co-founder retaining a majority share of 51 percent. Today, the publisher has finalized a deal with Penske Media Corporation, who has acquired a controlling interest in the company by investing in Wenner Media at a valuation just over $100 million, according to Variety — a pretty good return on the $7,500 he used to start Rolling Stone in 1967. When Wenner announced his decision to sell, he said he hoped to stay involved with the magazine's operations, and PMC — which also owns IndieWire, the Robb Report, Women's Wear Daily, Deadline, and Variety — will reportedly be keeping Wenner on as editorial director, with his son Gus Wenner continuing to serve as president and chief operating officer. Gus will also join the Penske Media advisory board.
PMC's plan for Rolling Stone is reportedly to expand its imprint as a business-to-business title, to invest more heavily in live events, and to leverage the iconic brand name for more licensing opportunities. A number of bidders were said to be in the mix for the title (Wenner Media sold off its other brands, Us Weekly and Men's Journal, earlier this year) — among them music producer Irving Azoff, The Hollywood Reporter owner Eldridge Industries, BandLab, Madison Square Garden chair James Dolan, and Playboy magazine owner Rizvi Traverse — but Wenner opted to go with Penske after a final meeting earlier today. According to Variety, the operational transition is expected to take place over the next six months.