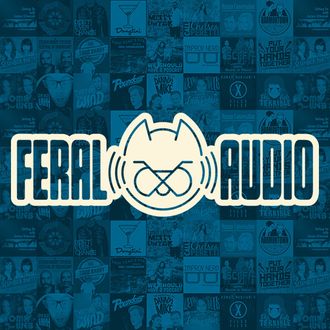 Feral Audio — the popular podcast network that houses shows like Harmontown, Call Chelsea Peretti, Sleep With Me, and the Sklar Brothers' Dumb People Town — is shutting down at the top of the new year.
The circumstances behind the news are complicated and sensitive. Founder Dustin Marshall announced the decision on his personal Tumblr in a post responding to an accusation of emotional abuse by his ex-girlfriend Abby Weems, a member of the punk band Potty Mouth, that was published on Twitter over the Christmas weekend:
In his Tumblr post, Marshall stated that he is "wrapping production" of the network in order to get mental-health treatment. He writes: "To Feral Audio artists, after six years, I can no longer have the pressure of running a company, continue this lifestyle and be mentally healthy." Marshall goes on to lament the growing professionalization of the podcast space:
Podcasting is now invaded by "the industry". the same one systematically raping and pillaging no matter how high you climb their hill. and honestly, even trying to compete with the machiavellian shit in podcasting right now would drive a sane person mad.




The reason the Industry have not monetized the internet is because they'll never understand it. Podcasters now more than ever, please be independent, be strong and say no to these networks not made up of your friends. (Some of your friends suck though). You are the voice of the internet. Your voice matters …




… i believe in this model, community and Feral Audio is where i dedicated 95% of my time in Los Angeles. i didn't spend the rest fucking up in romantic relationships. i've lived in complete honesty and transparency and since Feral Audio is forever married to my name, i am dissolving it so no dark cloud should ever be above your work.
Feral Audio was founded in 2012 as an independent podcast collective in partnership with the Burbank production company Starburns Industries, driven by a belief in complete artist ownership and the strength of listener donations. It eventually incorporated as a network in January 2016, bringing on Jason Smith (who now serves as CEO) and Shawn Kittelsen (who has since left the company) as partners and taking steps to formalize the venture like integrating advertising and affiliate links into its revenue model as well as partnering up with technology companies like Art19. In recent months, the network has continued to chug along and launch new projects, among them Los Feliz: The Podcast, a comedic show about the famous L.A. neighborhood, and Launch Left, a music-discovery podcast.
Despite its various gestures towards expansion, though, Feral Audio appeared to have largely stuck to its original vision embodied by its tagline "Fiercely Independent Podcasts." In a way, Marshall's sudden departure is another test for that mission: If Feral Audio podcasters truly own their shows, they could survive a breakdown in the structure around them — and quickly reorganize themselves to keep going.
The situation for Feral Audio and its shows remains in flux, but we'll see one version of that test play itself out: Tuesday morning, Starburns Industries announced the launch of a new venture, SBI: Audio, which will serve as the home for at least some Feral Audio series.
Correction: An earlier version of this story stated that My Favorite Murder was part of Feral Audio. That is no longer the case; in September, the show moved to Midroll Media.