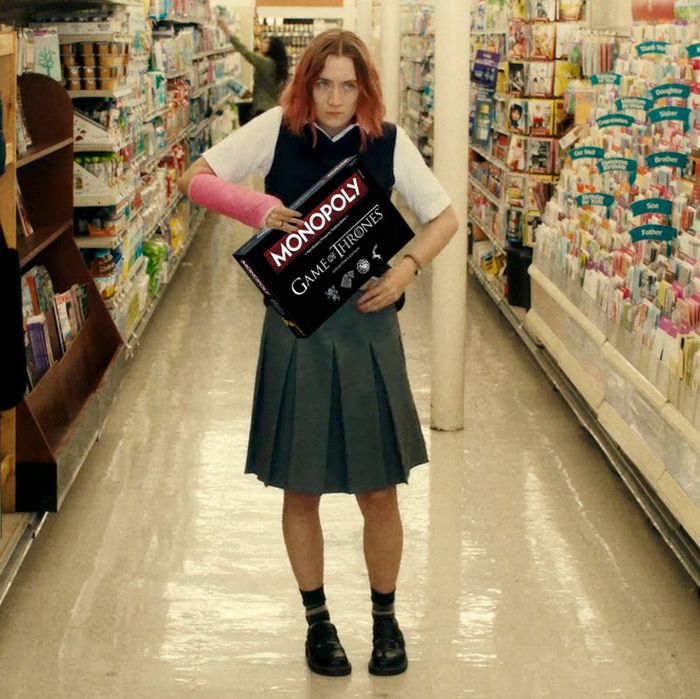 Photo-Illustration: Vulture and A24
Living with a superfan isn't the easiest lot in life, but when it's fun, it's really fun — and one of those times is gift-giving season. Here's what to buy if you want to watch the obsessive on your gift list, be they a Metallica fanatic, Stranger Things junkie, or Olsen twins stan, lose their composure.
"I'm an Olsen Twin" Hat
Brooklyn's THNK1994 museum is a demented paradise of pop-culture paraphernalia. This is the place to go if you want to buy a painting of a Real Housewife pointing at you, or peruse art inspired by a video of Kim Cattrall doing poetry accompanied by an upright bass, or if you want to be an Olsen twin (or know someone who has previously expressed this desire). —Rachel Handler
Stranger Things Gift Pack
There is so much Stranger Things merchandise available at this point that it's pretty easy to create a Stranger Things gift pack for the Hawkins, Indiana, freak in your life. Start with some Demogorgon-related reading like The Book of Barb, a hoodie to keep her (or him) warm on cold winter days, and a Stranger Things blanket (above) that's perfect to cuddle under while binging season two for the fourth time. —Jen Chaney
Greta Gerwig T-Shirt
It's easy to fall in love with Lady Bird, the capricious, self-righteous teen at the heart of Greta Gerwig's directorial debut. Lady Bird is equal parts loving, manic, and desirous of everything, all at once. Show your support for the Best Picture front-runner with a piece of swag that Lady Bird's onscreen dad Tracy Letts wore to the movie's TIFF premiere: a T-shirt repping Gerwig herself. (Bonus: This Etsy shop also sells shirts honoring Annette Bening, Isabelle Huppert, and Ava DuVernay, so it looks like all your gift-giving is magically covered.) —Hunter Harris
Famous Movie and TV Floor-Plan Paintings
Photo: Film Interiors Illustrated /fplancroissant/Instagram
I say this with all the confidence: No one pays greater attention to movies than Boryana Ilieva. The architect turned artist creates watercolor paintings that depict the floor plans of homes from such notable films and shows as Room, Stranger Things, and Call Me by Your Name, rendering the spaces with a stunning amount of detail. Ilieva has been producing the works since 2015 and posts them on Instagram as Floor Plan Croissant; recently, she began offering prints in various sizes, starting at $31.99. (Click an image for ordering instructions.) As she explained via email, "Architecture in films helps directors convey their message. It's a language in a director's hands, and that's a language I speak." And now, it's a language that can hang on your wall. —Neil Janowitz
Game of Thrones Monopoly
It's gonna be a long winter and then some before we get to see how the Westeros story ends. In the meantime, fight your friends for control of the Seven Kingdoms (and over who gets to be the Direwolf token) with a GoT-themed variant of the board game classic. Afterward, prove that you're the ultimate Breaker of Games by trying one of the many other Thrones table activities. —Maria Elena Fernandez
Luciferian Towers on Vinyl
The return of post-rock pioneers Godspeed You! Black Emperor has been one of the great unexpected blessings of recent experimental music. After a decade-long hiatus, they burst back onto the scene in 2012 and have been cranking out some of the best work of their career ever since. Their latest is remarkable for its sonic warmth and major-key hope, which represent a beautiful departure from the band's typical doses of (gorgeous) dissonance and (justified) pessimism. It's an ideal gift for anyone who thinks emotions are best expressed through guitars instead of words. —Abraham Riesman
Wonder Woman Stamps
For Wonder Woman's 75th anniversary, the United States Postal Service released a Forever stamp collection showing the long-running heroine at different points during her storied comic history from the Golden Age to Modern Age of comic history. Perfect for anyone who wants to add some color to their letter-writing, it can also be bought directly from the USPS site. —Angelica Jade Bastién
Safdie Brothers Peach Habanero Hot Sauce
If you know someone that liked the Safdie brothers' excellent thriller Good Time (think of it as Hell or High Water meets After Hours, starring Robert Pattinson), or still talk to people very into RPattz, consider gifting the Safdies' limited-edition hot sauce. Its gonzo label design is perfectly Safdie: an out-of-focus photo of the brothers, decorated with messy scrawl. Five ounces of a habanero sauce spicy enough to make you cringe and shudder as much as their topsy-turvy thriller. —Hunter Harris
Keanu Reeves Painting
Brianna Ashby regularly draws the featured art for the film journal Bright Wall/Dark Room. This painting of Keanu Reeves throughout his career is her crowning achievement (which I promise I'm not just saying because I am a Keanu obsessive and this was created for an essay I wrote). It's a striking piece that showcases Reeves in various stages of his career, in films like John Wick, Point Break, and The Matrix. The print comes in different sizes as well as on a mug and T-shirts. —Angelica Jade Bastién
The Breakfast Club (Criterion Collection)
The story of five angsty teen archetypes sharing a detention session graduates to the Criterion treatment. There's plenty for John Hughes devotees to parse: This restoration comes with new and rare interviews with the original five, 50 minutes of never-before-seen deleted and extended scenes, plus a Today show interview from the 1985 press tour. —Hunter Harris
Metallica's Master of Puppets Reissue
Master of Puppets is a permanent fixture on music fans' short lists of the best metal albums of all time, and the band's new 30th anniversary deluxe remaster is a towering monument to its greatness. Listeners who've heard Puppets hundreds of times will get lost for hours amid the box set's array of extras, which includes waves of practice jams, work-in-progress mixes and demos, tapes of riffs from guitarists James Hetfield and Kirk Hammett that would form the backbones of classic songs like "Battery" and "Disposable Heroes," soundboard recordings of blistering mid-'80s live gigs, lithographs, handwritten lyrics, buttons, and a 108-page hardcover book of rare photos and interviews. Ever wish you were a fly on the wall during the creation of a classic album? This is about as close as it gets. —Craig Jenkins
Acorn TV Subscription
For the British TV lover who's already binged every U.K.-based series on Netflix, consider giving the gift of an Acorn TV subscription. For $4.99 a month*, Acorn users get access to thousands of hours of existing British shows, as well as new Acorn Original series that aren't available on other U.S. services. That's an affordable gift, and one that will keep on giving all year long. —Jen Chaney
*Okay, yes, that works out to more than $50 for a full year, but: worth it.
Bob's Burgers Kuchi Kopi Glow-in-the-Dark Figure
Kuchi Kopi has figured into Bob's Burgers since the beginning of the series as Louise's favorite nightlight, in the form of walkie-talkies, and even as a malevolent figure in a riff on The Shining. Now you can have your own Kuchi Kopi with this adorable glow-in-the-dark figure. —Angelica Jade Bastién
Every editorial product is independently selected. If you buy something through our links, Vulture may earn an affiliate commission.