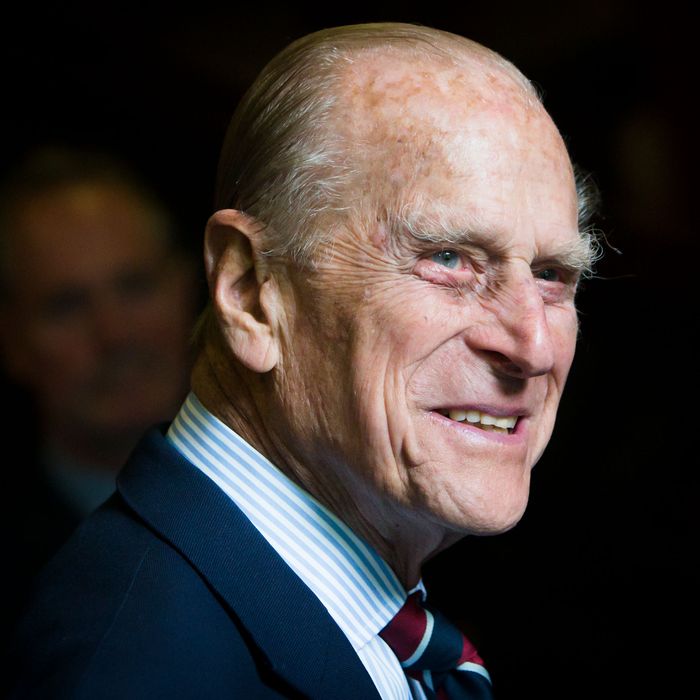 Photo: WPA Pool/Getty Images
As Netflix's The Crown segues into the 1960s in its second season, one of the most striking differences from season one is the treatment of Prince Philip. You see, the prince garnered quite a bit of a reputation after comfortably settling into domestic life with his wife, Queen Elizabeth: There were rumors of philandering, general bro-centric debauchery, and even more philandering, which The Crown is more than happy to depict on the small-screen for our soapy enjoyment. Whether or not any of this actually happened, of course, is up for debate, as the royal family is notoriously tight-lipped about any sort of personal matters. But in the following decades, Prince Philip's politically incorrect gaffes have become a weirdly common spectacle for the British public, so much so that former prime minister David Cameron once referred to him as a "king among characters." Below are nine of these most notorious instances.
His long-rumored, but unsubstantiated, affairs.
A bulk of The Crown's second season directly deals with the question: Is Prince Philip a cheater? Well, if he actually is, no woman has officially gone on the record about it — the amount of times publications have reported on the prince's supposed extramarital affairs have been rare and unequivocally denied by the royal family. In 1957, for instance, the Baltimore Sun ran a juicy story with the headline "Report Queen, Duke in Rift Over Party Girl," in which the prince was alleged to be "romantically involved with an unnamed woman whom he met on a regular basis in the West End apartment of a society photographer." Buckingham Palace soon responded to the article in a rare statement, stating: "It is quite untrue that there is any rift between the queen and the Duke." As the couple grew older, reports like this sharply died down.
Additionally, as Vanity Fair notes, biographer Sarah Bradford wrote in Queen Elizabeth II: Her Life in Our Times that Prince Philip indeed enjoyed his fair share of affairs, but always preferred the company of non-famous women. "He's never been one for chasing actresses. His interest is quite different," the book reads. "The women he goes for are always younger than him, usually beautiful, and highly aristocratic … He has affairs and the Queen accepts it." Prince Philip actually commented one time about his supposed affairs: "How could I? I've had a detective in my company, night and day, since 1947."
He was once nicknamed "the naked waiter."
Also seen in The Crown's second season was the Thursday Club, a gentleman's-only club that held boozy lunches and riveting conversations every Thursday in London. Or, as the prince's biography, Prince Philip: The Turbulent Early Life of the Man Who Married Queen Elizabeth II, characterized it: "rip-roaring stag parties." In fact, the prince allegedly earned himself the nickname of "the naked waiter" after serving dinner to Stephen Ward — a society osteopath who became a central figure in the Profumo Affair — and his guests "wearing only a small lace apron."
He advised British students abroad in China to not become "slitty-eyed."
In perhaps his most infamous gaffe, Prince Philip met a group of British exchange students studying in Xian, China, during a state visit in 1986 and gave them a word of advice about foreign living: "If you stay here much longer you'll all be slitty-eyed." (His propensity for insulting Chinese people persisted in the following years, when he referred to Beijing as a "ghastly" city and insulted Cantonese eating habits.) When asked to reflect on this "slitty-eyed" comment in an interview for his 90th birthday, the prince still didn't understand what the fuss was all about. "I'd forgotten about it. But for one particular reporter who overheard it, it wouldn't have come out," he said. "What's more, the Chinese weren't worried about it, so why should anyone else?"
He equated gun deaths with cricket bat deaths.
During a radio interview with the BBC in 1996 about an impending government regulation about gun control — which was prompted after a school shooting in Dunblane, Scotland, killed 16 people — Prince Philip expressed his doubts that change was necessary by talking about his favorite sport. "If a cricketer, for instance, suddenly decided to go into a school and batter a lot of people to death with a cricket bat, which he could do very easily … I mean are you going to ban cricket bats?" All parties in the British government condemned his "crass" and "insensitive" remarks.
He called out a teen for being fat …
While in Manchester to check out the NOVA spacecraft in 2001, Prince Philip took a few moments to talk to a 13-year-old boy who was also showing interest in the rocket. "Well, you'll never fly in it, you're too fat to be an astronaut," he said, unprovoked. The boy, named Andrew, later commented on how disturbed he was by the encounter: "I was bothered about what he had said. I was really cross. What gives him the right to be nasty to people just because he's married to the queen?"
… and another one for looking sickly.
A year later, he insulted a 14-year-old Bangladeshi teen at an inner-city London youth club by saying "he looks as if he is on drugs." (The prince also tried to break the ice with the teens by questioning, "So, who's on drugs here?") Shahin, the boy whom the comment was hurled against, understandably didn't take Prince Philip's behavior in stride. "He called me a druggie when I am not a druggie," he later said. "I didn't like that and my friends did not like that. I was very upset. Just because he is rich and has money does not mean he can say anything to anyone."
He insulted the workmanship of Indians.
Touring an Edinburgh electronics factory in 1999, Prince Philip remarked that a fuse box's wiring appeared so ill-kept that it looked "as if it was put in by an Indian." The public and political outcry was so loud that Buckingham Palace had to issue a rare statement of apology to smooth matters over: "The Duke of Edinburgh regrets any offence which may have been caused. With hindsight he accepts that what were intended as light-hearted comments were inappropriate."
He made a bad joke about deaf people.
During a visit to the British Deaf Association in Wales in 1999, Prince Philip's ears didn't respond well to the Caribbean steel drum band that was chosen to perform. "Deaf? If you're near that music it's no wonder you're deaf," he told the surrounding children. A report about the event in The Guardian described the children as being "shocked and insulted" by the remark, with the group leader advising that the prince "needs some more exercises in being funny. That was not funny at all."
He just wants his "fucking" photo taken.
In a scene that mimics the final moment in The Crown's new season, Prince Philip was really pissed at how long it was taking to get his photo taken at the 75th Battle of Britain anniversary commemoration. Really fucking pissed, you royal photographers.