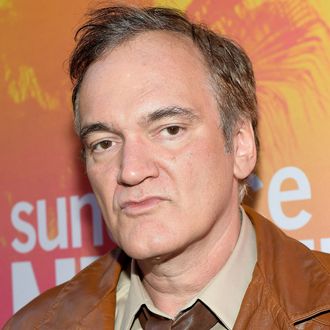 Photo: Matt Winkelmeyer/Getty Images For Sundance
If you thought that report about Quentin Tarantino directing a Star Trek movie would just fade into away into the Hollywood turnaround machine, you thought wrong. Deadline reports that Tarantino is beginning work on the project, and Paramount has agreed to make his dreams of an R-rated Trek movie come true. Because if a Tarantino movie exists without rapid-fire profanity and blood-splattering, is it really a Tarantino movie at all? The director is also currently sizing up screenwriters. Contenders include Mark L. Smith, Lindsey Beer, and Drew Pearce, each of whom would bring an entirely different sensibility to the table.
Smith is best known for writing The Revenant, in which case the captain of the Enterprise might end up sleeping inside the dead husk of a gargantuan space creature on some far-flung ice planet. Pearce has an upbeat, conventional blockbuster resume — and he clearly knows his way around a sequel — having worked on movies like Iron Man 3, Sherlock Holmes 3, and Mission Impossible: Rogue Nation. This approach favors a "Captain Kirk and Spock as space pirates" approach that ends up like a bad-boys buddy comedy, but could also turn into an intense revenge narrative with a ton of space guns. Then there's Beer: None of her big projects have been released yet, but she's got adaptations coming out of her ears with Chaos Walking, Godzilla vs. Kong, Masters of the Universe, Barbarella, and Dungeons and Dragons on the way. So you could probably expect an emphasis on the monsters? Smith is reportedly the front-runner for the job, though, so get ready for that gritty, brutal, lonely man's journey through the cosmos when a mutiny forces the captain off the Enterprise and he is left to die in an uncharted alien world, fueled only by his hatred and need for vengeance against a petty, backstabbing Doctor Bones McCoy.