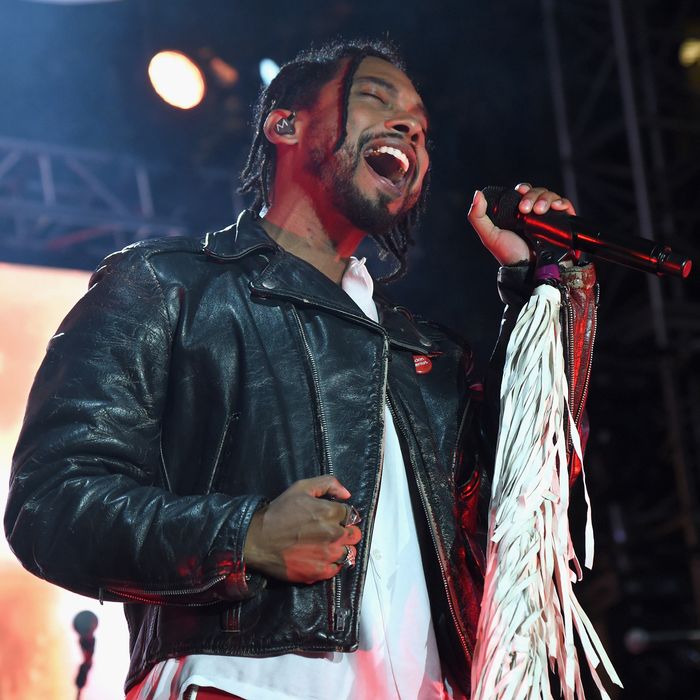 Photo: Michael Kovac/Getty Images
Miguel was an anomaly in the class of breakout 2010s R&B stars. He lacked the mystery of the Weeknd and Frank Ocean, who, through force of clever reinvention and media savvy, seemed to spring out of thin air along the same stretch of months in 2010 and 2011. Miguel didn't storm the industry with a courageous band of brothers or grow clout after a well-timed co-sign from a famous friend. Many discovered the San Pedro, California, singer after the release of his 2010 solo single "Sure Thing," but note that he was the guest vocalist-in-residence throughout the rapper-producer duo Blu & Exile's 2007 indie rap classic Below the Heavens (see: the soaring "Cold Hearted"), and the co-author of R&B chart hits for Musiq Soulchild and Jaheim before his major label debut All I Want Is You ever went to retail.
The triumph of Miguel's breakthrough hit single "Adorn" and his sophomore album Kaleidoscope Dream was a feat of working the biz, of half a decade spent placing co-writes and uncredited vocals on bigger artists' albums. It must've felt weird getting lumped into an alternative R&B movement characterized by new artists ditching the rules and self-releasing well-received mixtapes, having already worked so comfortably and capably within the mainstream. 2015's Wildheart album felt like a concerted effort to further distinguish Miguel from the pack by showing off all the skills in his toolbox. The mix of soul, rock, and rap influences offered there was daring, and the songwriting oscillated smartly between the confident bedroom entreaties of "Coffee" and the self-deprecating autobiography of "What's Normal Anyway." As good as it was, Wildheart never spawned the killer hit that floated its predecessor to gold sales. These days, Miguel is a world-class singer-songwriter who somehow still feels underrated, a vet who deserves to sell ten times as many records as he does when you factor in raw talent and paid dues.
Last week's War & Leisure continues to let the craft do the talking. The album's title suits it, but not in the obvious ways. It sounds like the music's going to be about seeking emotional escape in dark times, but the theme is less blunt and leagues more slippery. The "war" part isn't necessarily rooted in politics or current events; "Criminal" and "Banana Clip" both sound like songs about defending love, but when Miguel says his is "like gunfire" in the former and gloats that he's "got that extendo" in the latter, he's flexing more than his Second Amendment rights. The mournful "City of Angels" turns the love-is-a-battlefield theme into suspenseful sci-fi: Fighter jets bomb Los Angeles while the protagonist is holed up in an apartment with a mistress ignoring texts from his significant other. ("When the City of Angels fell, I was busy letting you down.") He wakes up longing to come back home to his girlfriend, but verse three suggests he's never seeing either one again. War & Leisure's balance of the personal and the political is inventive, and it allows J. Cole to abruptly transform "Come Through & Chill," a song about hemming and hawing over sexts with a new crush, into a snarky protest anthem: "I know my lack of reply had you catchin' them feelings / Know you been on my mind like Kaepernick kneeling … or police killings."
That the anxiety ever-present in War & Leisure's margins never causes it to sour is testament to the strength of its grooves. As Leisure's "Criminal" and "Banana Clip" indicate, Miguel remains as gripping in a mid-tempo funk jam as he was on "Sure Thing" and "Adorn." "Harem" and "City of Angels" both set limber, impassioned vocal runs to moody guitars, while "Caramelo Duro" and "Wolf" roll in aspects of blues and contemporary rock en español. The Travis Scott and J. Cole collaborations "Sky Walker" and "Come Through & Chill" are both effortless hip-hop/R&B mind melds from a guy who's been sailing excellent hooks over rap beats longer than many of us knew a name to match to the voice. Whether he's nailing sultry falsetto lines in a studied Prince pastiche ("Told You So"), paying subtle tribute to the Pixies ("Now"), or just sending a soaring, reassuring chorus through the clouds ("Pineapple Skies"), the range is impressive, and the success in getting this many different sounds to jell is Miguel's winning trademark.