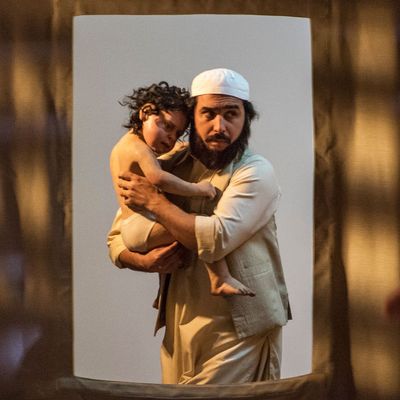 At the Park Avenue Armory,
A Room in India.
Photo: Stephanie Berger
In 1964 in Paris, the 25-year-old Ariane Mnouchkine did what countless young theater artists, fresh out of school and full of ideas and ambition, set out to do: She founded a company with some friends. The troupe — a collective affair where each founding member put in 900 francs and committed to equal salaries for all — was called the Théâtre du Soleil. "We were looking for life, light, heat, beauty, strength, fertility," Mnouchkine told the New York Times decades later, describing the origins of what had by that time become one of the world's preeminent theater companies — unique in its communal spirit, the grand scope of its productions, and the multinationality of both its material and its membership. "Théâtre du Soleil is the dream of living, working, being happy and searching for beauty and for goodness. … It's very simple, really."
On Friday evening I sat in a leather-and-mahogany room at the Park Avenue Armory and listened to Mnouchkine — now 78 years old, bright-eyed, articulate and deliberate in her French-accented English — say much the same thing to a room full of listeners preparing to venture down the corridor to the Armory's cavernous Drill Hall and settle in for Théâtre du Soleil's current production, the almost-four-hour-long, epic-in-every-sense A Room in India. More than half a century has passed since Mnouchkine's company was born, but the woman who's now widely known as the matriarch of French theater is still dreaming the dream. Théâtre du Soleil still pays every one of its company members, including Mnouchkine, the same salary (and these days there are more than 75 of them, including immigrants and refugees from around the world). The company still makes its home at the Cartoucherie, a factory outside Paris that's gone from making bullets to making art. And they're still creating sprawling, questioning, dense, deeply humane works of theater.
Today, Mnouchkine's dream is concerned not only with the search for beauty and goodness but with resistance. A Room in India, the show's program tells us, is "a collective creation by the Théâtre du Soleil" made "in harmony with Hélène Cixous" — a writer, scholar, and dramaturge who collaborates frequently with the company — and its development began in a moment of painful tumult: Mnouchkine and her troupe were scheduled to visit India near the end of 2015, to research and begin work on a new show revolving around the ancient Sanskrit epic the Mahabharata. Then, in November, 130 people were killed in a series of coordinated terror attacks in Paris. It was that moment's contribution to the seemingly endless list of deadly shocks and devastations that snakes its way through this fearful contemporary epoch. Like her city, like the world, Mnouchkine was grieving, enraged — but she didn't cancel her plans. The Théâtre du Soleil still went to India. Nothing about what they would end up making there was certain, except that it wasn't really about the Mahabharata anymore.
Or perhaps it was. As one of the dozens of characters onstage in A Room in India quips, "Everything is in the Mahabharata. And they say what is not doesn't exist." The same might be said for Mnouchkine's vast, huge-hearted, sometimes unwieldy but always inspiring show. It's a play about everything, both an exploration and a satire of the unmanageable chaos of our present moment. It's like an antic, smiling juggler, trying to keep more and more balls in the air — and then knives! Torches! Chainsaws! — knowing that eventually, one, or all of them, might fall … and yet the show will go on.
And, like the company that created it, A Room in India is a dream. In keeping with Mnouchkine's wide-reaching, allusory style, the show is in conversation with myriad other works of art — from the originally intended Mahabharata to Chaplin's The Great Dictator, from the plays of Chekhov to those of Shakespeare, most significantly King Lear and A Midsummer Night's Dream. Though all these references sound like a heady mixture, the story is actually a simple, even semiautobiographical one: A theater company from Paris has come to India to work on a play when disaster strikes both at home and abroad. No sooner do they receive news of a devastating terrorist attack in Paris, but they also discover that their director — a volatile auteur known as Lear — has completely lost it. He's abandoned the company and, as near as they can tell, has recently been arrested for public indecency — having climbed stark naked up a statue of Gandhi screaming, "Antonin Artaud, help me!"
The company is left in the hapless hands of Lear's assistant Cornelia (not quite Cordelia, but you get it), a fluttering, well-meaning administrator in a dowdy nightgown and a messy graying ponytail on the top of her muddled head. "You! The fifth wheel!" a company member exclaims at poor Cornelia. "You who have never directed the smallest of scenes!" The troupe, and their show, are her responsibility now. What will their play be about? Will they be shut down by investigators from France, sent to make sure the company is using their government grant money responsibly? Can they make art in the face of terror? What art could possibly matter in such a moment? In a violent, chaotic, incomprehensible world, how do they get to work and start to play?
Cornelia's questions and Mnouchkine's are one and the same, of course, and A Room in India is at its strongest when it doesn't answer them but simply lets them multiply — more existential balls for the breathless jugglers to keep in the air. Company members keep visiting Cornelia to tell her all the Big Important Things their play should touch on, from "what's happening in Syria" to the environmental crisis indicated by phreatic water tables. "I think there are too many subjects," an actress named Clara, played with quavering anxiety by Dominique Jambert, blubbers at one point, while Cornelia herself laments, "I want to be a geopolitical theatrical woman, but I'm not!" You can feel Mnouchkine winking, half mischievous, half defiant. Yes, put it all in there. Ask everything. Admit that you're confused, overwhelmed — that you feel like a fool in the face of this world. It's a courageous demonstration of vulnerability, of empathetic uncertainty, from an artist whose emeritus status has done nothing to flatten her sense of curiosity, nor dull her sense of humor.
We jump from subject to subject in this overflowing multiplicity in a series of dreams. Cornelia never gets out of her nightgown, but she also never gets a good night's sleep. The room in India is her room, part of an expansive, airy, postcolonial guesthouse that takes up one whole end of the Drill Hall. (I would credit a scenic designer, but Théâtre du Soleil's quintessence is such that roughly 13 people are listed in the program for jobs like masterminding "the paintwork and patina for the set" and having "tamed all sorts of metal, bamboo, and cement").
Near the room's center sits Cornelia's bed, as much a vessel of imagination as that of Little Nemo in his journeys through slumberland. The marvelous Hélène Cinque — a consummate gawky comedian — flops across the bed repeatedly, utterly overwhelmed at the immensity of her task and the turmoil of the world, seeking sleep but instead subsumed in dream after dream. The room becomes porous, visions and visitations spilling in through every orifice: There's Shakespeare's Lear and Cordelia, portrayed in the Kabuki tradition by Seietsu Onochi and Man-Waï Fok. There's the Hindu god Krishna. There, climbing through the window, are a pair of monkeys — a miraculous piece of physical acting by Seear Kohi and Arman Saribekyan. There's Shakespeare himself, swept in through the window by a tempest. There's Chekhov, accompanied by Olga, Masha, and Irina. There's a gang of Taliban terrorists, played as bumbling Three Stooges–style fools. ("Make fun of the villains!" Cornelia exclaims at one point. Can we? How far can we go? Who decides what's "appropriate" to laugh at? More questions — more chainsaws in the air.) And there, recurring throughout the production, is a recreation of the Terukkuttu, the world's oldest extant theatrical form, a ritualistic style of traditional Indian drama, performed in Tamil and enacting famous episodes from the Mahabharata. (Mnouchkine's actors trained with a "master and guardian" of this ancient form to prepare for A Room in India.)
Is it too much? Yes, but purposefully so. Mnouchkine has created not a straightforward narrative, but a sensory evocation of a mind jam-packed with contemporary anxiety — that of the artist and of the global citizen. It's too much because the world is too much. A Room in India can't possibly excavate every weighty topic it throws into play, in the same way our minds can't fully comprehend each and every atrocity in our daily calendars. I found myself thinking of George Eliot's observation in Middlemarch: "That element of tragedy which lies in the very fact of frequency, has not yet wrought itself into the coarse emotion of mankind; and perhaps our frames could hardly bear much of it. If we had a keen vision and feeling of all ordinary human life, it would be like hearing the grass grow and the squirrel's heart beat, and we should die of that roar which lies on the other side of silence."
A Room in India immerses us for a few hours in a version of that roar, the clamor of our own hearts and minds as they struggle to decipher where to place their empathy, where their action. If it's not necessarily evenly compelling (certain visitations are much more striking than others, and despite their historic significance, the Terukkuttu sequences often feel overextended and Mnouchkine depends on them a bit too heavily to solve the unsolvable) — it's still unceasingly ambitious and admirable. Here is an artist — a 78-year-old artist with a 54-year-old company — still seeking, still questioning, still as committed to laughter as she is to gravity, still as impish as she is rigorous. Mnouchkine has had a most rare vision; she has had a dream past the wit of man to say what dream it was. And like the vision of her Shakespearean cousin in wise foolery, Mnouchkine's dream — be it A Room in India or the Théâtre du Soleil itself — has no bottom.
A Room in India is at the Park Avenue Armory through December 20.