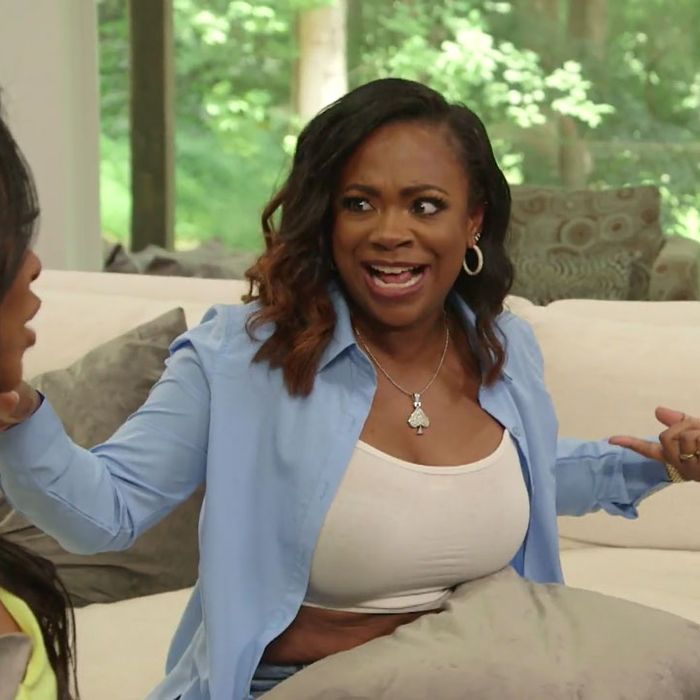 This season, it seems like we're getting two drama-filled episodes in a row and then one as a breather. This episode is definitely a breather, as we check in with about half of the women's personal lives to find out who is failing as a girlfriend and a mother. Let's dive in.
We get a silly little excursion with Shereé and Porsha because Shereé is finally ready to install some doors in Chateau Shereé. Porsha tells her, "Maybe you need a fabulous knob." Porsha just has things fall out of her mouth that are absolutely ridiculous and adorable. Shereé also wears some wigs in this episode. She took that synthetic unit and put those perm rods in and dipped it all in hot water. Come through, YouTube tutorial!
Kandi, Kenya, and Cynthia are hanging out at Lake Bailey and talking about the trip to San Francisco. Cynthia finally tells Kenya that she wants to meet her alleged husband. Kenya claims that she doesn't hang out with "Marc" in Atlanta because she still has a restraining order against Matt. That … doesn't add up. A restraining order doesn't mean you can't go somewhere, Kenya. Also, how many places do you think Matt is waiting for you somewhere?
Then the conversation turns to Shereé's Prison Bae. Apparently, Shereé was posing during a visit with a T-shirt that said "Wifey." Shereé tells Porsha that when Tyrone gets out of jail, she'd be ready to marry him. That gets Porsha thinking: If Cynthia has a man and Shereé has a prison boyfriend, why can't she get somebody?
Enter two tragic looking white women, who are going to be Porsha's matchmakers. Porsha says that being a vegan has made her hornier and got her looking at all them vegetables with a different hunger. They also show a montage of her ex-boyfriends and I imagine that my personal hell would be watching a montage of my ex-boyfriends. It's hard enough just seeing an ex in a bar, but imagine a well-edited and curated reel of all your romantic mistakes. Porsha shows them around her house and they think that it's scaring men off because two of the bedrooms are already decorated for children. They toast to Porsha meeting white men and I knew right away these women were about to do her wrong.
Cynthia stops by a construction site where Peter is going to be working on another bar and restaurant in Atlanta. Why are these people always trying to open restaurants? It's like the hardest thing to set up and keep going. I know Peter has had some success, but it all makes me nervous. I don't want Cynthia's money to be sucked by this Uncle Ben lookin' motherfucker.
The episode's cutest moment? Lil Ace's swim lessons! I literally squealed! Kandi says that she's feeling guilty about spending time away from her family, but she's glad Todd can be there for her kids. Because Todd is unemployed, Kandi. Kandi doesn't get a break because she makes some time for Riley and Riley just shoots down all of her offers to spend more time together. "Well, you'll just cancel at the last minute." Like, damn, Riley. Your mom is trying over there. Your mom working and getting that "No Scrubs" money is how you can afford to go indoor skydiving!
Meanwhile, Shereé comes home and her daughter is saying good-bye to all her white high-school friends before going off to Howard. Shereé decides that now is the time to talk to her kids about her domestic abuse. She knows that her kids have read about it online, so she just wants to know what they think. Her daughters were shocked and Bob tried to talk to them about it, but Kayleigh drove away. Kairo says it's because Shereé never talked about it. Shereé says that she never told them because she wanted to protect Bob's reputation but Bob never protected her. She wants to talk to her kids so they don't repeat her mistakes. It's pretty sweet and there's nothing really to snark about here. I'm rooting for Shereé.
Meanwhile, Cynthia is going on a double date with Kandi and Todd so they can meet Will. Kandi has done some digging and found out that Will appeared in disguise on a dating-themed episode of The Steve Harvey Show and was approached to be on a dating-show pilot. If I found out my boyfriend had anything to do with The Steve Harvey Show, I would run for the hills. But they're already in open water. Kandi and Todd interrogate Will and Todd keeps bringing up Peter. Cynthia and Kandi have a little girl talk and Kandi reassures her that since they both grew up in the public eye, they have to be careful who they bring around them. Cynthia is mostly worried that the sex might be bad. My favorite moment is when Cynthia reveals that just because Will isn't getting any doesn't mean that Cynthia hasn't been either. She also says, "I'm 50 Cent now. I want a Fat Joe or a Big Pun." She's referring to Will's penis. Then Cynthia tells Will that they were talking about their potential sex life. I love a 50-year-old woman who just wants to get laid and has no chill about it.
Now it's time for Porsha's matchmaker date. She literally walks in, sees his Peter-from-accounting lookin' ass, and turns right around. I KNEW THOSE LADIES WOULD DO HER WRONG. How do you look at someone like Porsha and think that chin-strap dude is a good match for her? Porsha is literally bonkers and gorgeous. What are this man's qualifications to be on a date with someone like Porsha? I clown on her a lot, but she does not deserve this blockhead. He makes her a sake bomb. Who does a sake bomb on a first date? He literally says, "All beautiful women have something off about them." OH NO, SIR. If you're setting me up on a date like that, he better be a millionaire. And this dude is most certainly not a millionaire.
Finally, Shereé is meeting with her life coach when she gets a phone call from Tyrone. She slips out onto the patio and grins herself silly. He says that God is good for getting a second chance with Shereé. He stopped talking to her years ago because the Feds were closing in, but couldn't stop thinking about her. Shereé is living my Goodfellas dream relationship. When she comes back in from the patio, her life coach is like, "Who was that?" and Shereé says, "Oh, my boyfriend in prison." You can literally see him suppress his urge to go "BITCH, WHAT" and ask her if she's in love. Her bae might be coming home soon or he might be coming home in four years. Shereé is ready to take a chance on love and he's her soulmate.
It might be tough, but I'm still rooting for Shereé.