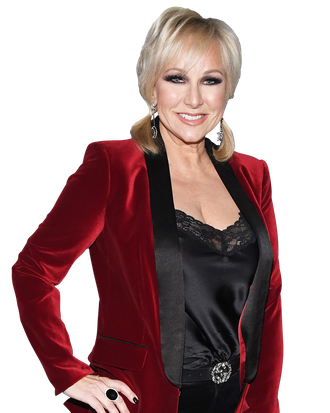 Margaret Josephs may be the new girl on The Real Housewives of New Jersey, but the self-proclaimed "powerhouse in pigtails" has wasted no time in making her mark on season eight. The fashion designer and Macbeth Collection entrepreneur deploys one-liners like a blonde bazooka, whether she's talking about her beloved mom, Marge Sr., or "pot puss," her preferred THC-infused sexual spray. Josephs recently chatted with Vulture about her husband "Super" Joe Benigno and their still-under-construction home, Joan Rivers, and her friction with castmate Siggy — or as Marge might say, Soggy.
How long have pigtails been your signature look?
I wore pigtails as a little girl and then I gave them up, obviously, for a while. When I was in my 20s, I started wearing them again. People got attached! When I wouldn't wear them, everyone was like, "Where's the pigtails? You look so good in them." They're disarming and charming at the same time, and they make people underestimate me. It's better to be underestimated.
My ex-husband loved them; this husband loves them. I didn't realize they were gonna get such a reaction. They are just so normal to me, but I love that I don't look every other blonde in the room. They make a statement. When you walk in, you get noticed.
You clearly have a great sense of style. Who are your personal fashion icons?
I always wanted to be some vintage Hollywood movie star mixed with rock-and-roll girlfriend. My personal style is very Marilyn Monroe meets Bianca Jagger. I could be wearing a vintage fur with a sexy dress, or I'm in my jeans and high heels.
What's your number-one piece of business advice?
Know what you're good at, but more importantly, know what you're not good at. People like to have control over everything and they can't. Not everybody is amazing at every single thing. I have a great creative eye. I'm an amazing salesperson. But you know what? I stink at the books. I stink at all of that stuff. So I have to get someone to do that. You have to have a good team.
What was your relationship with Siggy like before RHONJ? Did she really bring you onto the show?
In 2013, I was approached to do the show. I couldn't do it — I had just gotten divorced, my son was still at home, it just didn't work for my family. It is true I am connected to Siggy, but I wouldn't exactly say that is my connection to the show. Jodi Goldberg, a mutual friend of ours — I call her the Tenafly Tongue — had introduced me to Siggy, and I knew they were looking to add another person to the show, so she definitely introduced me to the girls. I'll give her credit for that, but the show had approached me in 2013.
Tell me about your relationship with Joan Rivers. How did you end up attending parties at her house?
My agent who I had before, Amy Rosenblum, had also worked for Joan Rivers. Joan would throw these great parties, so of course, Amy, who's so lovely, would always include me. I went to her house; she was the most humble, sweet woman. Adorable, very tiny! She had such a big presence, you don't realize how little she is in real life. Her apartment was fabulous. She was the most gracious hostess. She was just really charming and down to Earth. She said to me, "Marge, it's so nice to meet you — I'm gonna tell you, always wear those pigtails." She said that makes me different. She actually sent us Christmas gifts after that, through Amy. It's not like we were good friends, but she always remembered me and it was just very nice.
It's hard to think of two words that have led to as much drama on RHONJ as "Soggy Flicker." Do you regret calling Siggy that? Do you stand by it?
It was an iconic moment. I had no idea it was gonna blow up into something like that. If I knew it was gonna hurt her to the core, I probably wouldn't have said it. If someone said something like that about me, like "Maniacal Marge" or something, I would find it completely entertaining. You know, it cut her deep, so I feel bad. But to be honest, it's fabulous. Let's not kid ourselves. And listen, she made T-shirts out of it.
If you had to use like one word to describe your relationship with Siggy right now, what comes to mind?
None. Or over.
It was very moving when you described your estrangement from your stepchildren. Has there been any progress in your relationship?
I have three stepkids from my first marriage. One has always been in my life and he's still in my life. The two that aren't, it's not that they totally don't speak to me. We text message. But we're not together on holidays. We're not in everyday life together. It is very strange. We were such an amazing family and we just had a rough marriage. And I am so close with my ex-husband, their dad. And they are the brothers and sisters of my son. He's very close with them. We're working on it. I'm hoping and praying that it gets better. It is very, very hard.
I opened up about it because that is my biggest pain. That is a very big part of my life. Everybody could look at all our lives on camera and think, Wow, they look so happy. But there's so many things going on under the surface that people don't like to reveal. I think a lot of people relate to that. A lot of people have written to me about it.
How's your living room coming along?
You want the truth? Not as quickly as planned. The house is from 1907. It's much bigger than you've seen on TV and our property is much larger. It should be quicker, but you always find snafus. When you're doing one thing, something else happens. We've had air-conditioning drama and heating drama. This has to be pulled, this has to be yanked. So I've been screaming at Joe nonstop. But it's moving along. Contractor's wife — not the prettiest. I got more done before we were married, if you know what I'm saying.
What are you doing for the holidays?
If I can get the house in order, I love having tons of people over on Christmas Day. On Christmas, I normally have 120 people at my house — 120 of my closest Jewish friends, because they have nowhere to go for Christmas. Normally, they go for Chinese food.
What else can you tell me about "pot puss"?
It's this great sexual spray that someone sent me from Colorado. It enhances your orgasm. You have to marinate, like I said, like a chicken, for 20 minutes. And it happens to be amazing. My husband loved it. Unfortunately, it's not available in New Jersey as of yet, but we're trying to work with someone to come out with a version that's as effective that's available everywhere.
You may need to take like a ladies' trip to Colorado.
I'll have to marinate all of them. I'll just spray 'em all.
This interview has been edited and condensed.