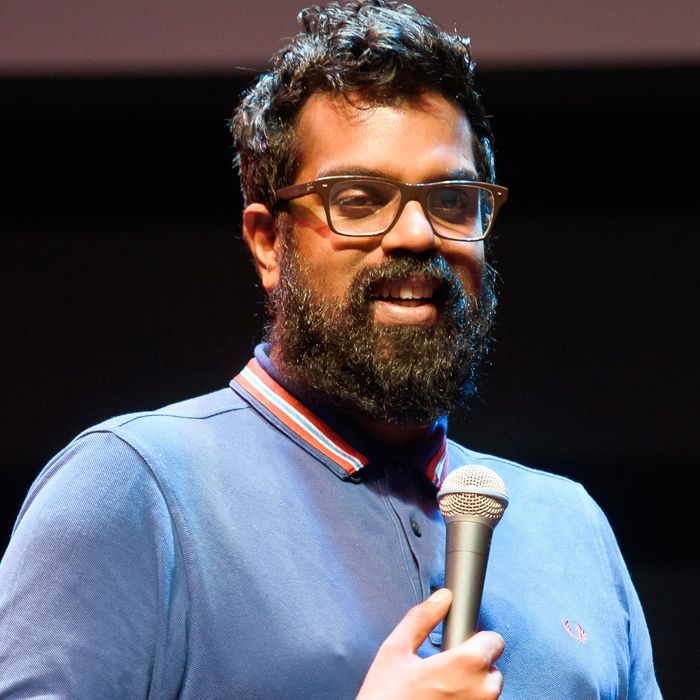 Photo: Joseph Okpako/Redferns via Getty Images
Best known for his standup in the United Kingdom, Romesh Ranganathan was working as a high school math teacher before deciding to pursue his lifelong passion for comedy. Over the course of five years, Romesh went from performing pub gigs to becoming one of the UK's most popular performers. After selling out theaters all over England and touring Australia, he decided to move his wife, mother, and three kids to Los Angeles and try to make it big in America. He recently made his late night standup debut in the US on The Late Late Show with James Corden, and he set the bar high for himself straight out the gate by buying the 5,900-seat Greek Theatre in Los Angeles to put up a show he's calling Romesh in America, which takes place tomorrow night. He hasn't sold too many tickets yet, but he hopes if he builds it, they will come. I talked to Romesh about his Sri Lankan heritage, making the jump from teacher to comic, and how US audiences compare to the UK.
When did you first figure out that you were funny?
I did a gig as a standup when I was eight years old. I went on holiday with my family to this holiday camp and they had a talent competition and I entered as a standup. But I've got to be honest with you, all of my material was stolen from stuff I'd seen, and I delivered it all in a Sri Lankan accent. It wasn't like an amazing act, but I won. It was less to do with me being good and more to do with the other kids being proper shit.
My family is all obsessed with comedy. I grew up watching a lot of comedy in the house. I used to watch Richard Pryor and Eddie Murphy with my dad. But my mom is more into slapstick stuff. She's obsessed with the Pink Panther films. But the truth is with a Sri Lankan background, you don't think of comedy as a career path. Even though I enjoyed doing it, I never thought about doing it seriously until much later on.
You made a documentary about Richard Pryor and even have a tribute tattoo on your arm. What did you connect with in his comedy?  
Yeah, I loved everything he did. As I got older, I sort of found out what a complex character he was. So, when I got the opportunity to do a documentary, he felt like the obvious choice, really. But as we started exploring the documentary, I realized he had the perfect storm of a shitty upbringing, super talent, and then the politics of the time were really sort of made for his career. But my parents didn't give me a shitty enough upbringing to really be heralded as one of the greats, unfortunately. And I don't have the talent, so those two things are working against me.
You think that kind of early adversity is a key element to good comedy?
I do feel like comedians like to romanticize depression and mental health issues. Most of the really good comedians that I know have some sort of fuck-up in their childhood or something happen. There's very few that had a straight shot. But at the same time, there's very few people you meet in general who had a straight shot. So, I don't know if it's just my confirmation bias. I worry about my children, actually. I'm trying to give them a decent upbringing but I sometimes worry that that means they're going to be kind of mediocre adults. Like maybe I should throw them out for a bit and give them some adversity. Like a kind of managed adversity? Maybe put them in a hovel for a bit.
A lot of your comedy centers around family life and you even wrote an opinion piece for The Guardian on parenting. What is your best parenting advice? What have you learned after three kids?
I kind of learned that there are no rules. Sometimes I have to apologize to my kids after I've handled something wrong. I think you sort of assume as the parent that you've got to be in the right and the kids have to sort of bow to your will. Which is true to a degree, but sometimes I've reacted the wrong way off the backs of the kids doing something and you have to sort of say "Look, at the end of the day mate, I'm doing this for the first time as well and sometimes I get it wrong." But what I've realized is that that's a mistake, because now my authority is not absolute. So, my kids say, "Well I could do what you're saying, but is this one of those times when you're sort of a work in progress?" There are times that I have said something to my oldest son and he doesn't question me in the moment, but I know he's thinking, "Oh, he absolutely fucked this up but he'll come apologize to me in a few days."
How are you finding US audiences compared to UK audiences?
I like the audiences out here. I think American and British audiences are offended by different things. For example, there's a bit that I do about how ISIS is just not very good at what they do – sort of tips for ISIS to improve what they do. In Britain, that's absolutely fine, but here the first time I did it, the audience, they were very shocked. It's just a different reaction. And in the UK you can talk negatively about religion, and it's not a thing. I don't know if the UK is just more godless than America, but over here it feels more contentious to talk about religion. So I just think as I've been gigging over here, I've been feeling out what you can and can't get away with.
You bought out the Greek Theater in LA for a show. What a bold move! What went into that decision?
Yes! To be honest, I'm regretting it slightly. It's a bit like Field of Dreams. I just sort of wanted a tangible sort of target to aim for. And also, I'm sort of an inherently lazy person, so I thought if you give yourself a really difficult target then that means you work harder at it. Like when I was doing comedy in the UK, I left teaching to do it, it was only when I stopped teaching that I worked super hard at comedy. I thought by giving myself that high-pressure target, I would really go for it.
How did you make the jump from teacher to comedian?
I started gigging while I was teaching, but I didn't think I would do it for a job. I was enjoying teaching and I had noble aspirations for what I wanted to do, like helping children and all that. But then gigging started taking off and somebody told me you could definitely do this for a job, and it was the first time it occurred to me that maybe it was actually feasible for me to do it for a living. And then I got an agent, and the agent said "You need to quit your day job if you want to really go for it." So I had to give notice to the school ahead of time. But then three days before I took leave, my dad passed away suddenly from a heart attack. So then for my first few months of being a full-time comedian, I was basically sorting out my dad's finances and making sure my mom was okay. But I sort of took my eye off the ball comedy-wise and then we were just broke. We couldn't pay the bills, we had our car taken away. It wasn't the best start. But then things started to pick up and get better and better.
You went on an adventure with your mom to Sri Lanka for a BBC series. What did you get from that experience?
The truth is, I felt that I had to do that trip whether we were making series or not because I felt so disconnected from my heritage. The main thing I got from it was an insight into where my parents came from. My parents are super westernized. My mom listens to western music, my dad was like a pub landlord so he properly embraced English life. But the truth is they both came from tiny villages in Sri Lanka. So it gave me more insight into what my parents are about. But the other thing is that mad shit happened that I didn't know was part of my culture. And actually, it kind of wasn't. For example, my mom arranged with the production company for me to have a blessing for my journey. But it wasn't a traditional blessing – it was like an exorcism. They put me in a bamboo cage and this guy was possessed temporarily and started yelling at me and then he pulled out a sword and he knocked down the bamboo around me and then it got really weird – he pulled out a chicken and rubbed my head with it. Obviously, the cameras were rolling the whole time so I assumed this was part of the show, but then I looked at the director and he looked terrified so he didn't know it was going to happen either. He wanted to talk to me about it afterward. He asked, "Do you feel amazing?" And it's like yes, I feel amazing that I'm no longer in a cage being rubbed by a chicken.
Once you became a very public person in the UK, did you ever receive feedback from former students?
Yes, kids do get in touch. Mostly positive. But I have had kids let me know there was something I did that they didn't like. I was out with a few friends in my hometown of Crowley, and I bumped into a student who used to be a know-it-all. He goes, "Just a little tip: You did a bit too much about your race in that show, so I think you should just tone it down a bit." A totally uninvited opinion. But the truth is they didn't like me when I was a maths teacher – they're not allowed to like me. It's like, you were a real little shit when you were in my class, no sense thinking we'll be mates now.
Now that you're in the US, what will making it look like for you?
I don't know. I don't know if I really feel like I've even made it in the UK. I guess if I'm able to make a decent living doing standup out here, then I'll feel like I've made it. I've always felt if I can pay the bills through comedy, then everything else is a bonus. I can try to be humble, but the truth is, I don't want it to just end there. I'd love to be a megastar but it's unlikely – I don't have the looks for it. But I guess if I'm able to get to a similar sort of level in the US as I am in the UK, I'll be over the moon.
Photo by Vanie Poyey.
See Romesh in America on Thursday, December 21st at 8:00pm at the Greek Theater. Tickets are currently being sold via the Greek's website and Ticketmaster.
Sydney Parker is a writer living in Seattle. You can read more of her writing on Carnival of Souls or follow her on Twitter @Carnivalosouls.