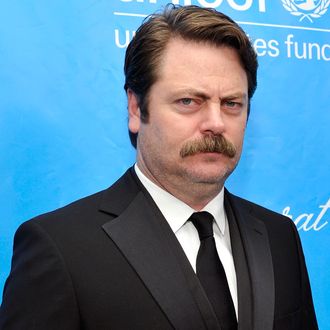 Photo: John Sciulli/Getty Images for UNICEF
The chair of the FCC, Ajit Pai, is a big Parks and Recreation fan. So much so that he has referenced Li'l Sebastian in an FCC white paper about implementation of the Twenty-First Century Communications and Video Accessibility Act of 2010, and he keeps a framed poster of the Ron Swanson Pyramid of Greatness on a wall near his office. What Ajit Pai might be most well-known for, though, are his recent efforts to undo net-neutrality rules put in place by the Obama administration, or as he calls the pursuit: "Restoring Internet freedom" so consumers have access to "better, faster, and cheaper broadband." Pai has been criticized for pushing repeals that would prioritize the needs of internet-service providers over users, and for using bot-generated, anti-net-neutrality comments on the commission's website as proof that consumer sentiment backs HIS repeal efforts. (Former FCC chair Tom Wheeler said that, under Pai's leadership, the organization is "walking away from existing consumer protections for a fast, fair, and open Internet.") Well, Nick Offerman has learned of Pai's affinity for the Pyramid of Greatness, and has taken to Twitter to let the chair know that Ron Swanson would definitely not approve of his behavior.
Mr. Pai, we regret to inform you that Pawnee's Parks and Recreation Department will not be welcoming you in.