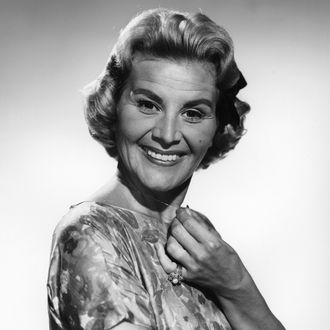 Rose Marie.
Photo: CBS Photo Archive/CBS via Getty Images
Rose Marie, The Dick Van Dyke Show star widely regarded as the longest-working actor in show business, died Thursday at age 94. The multi-hyphenate entertainer born Rose Marie Mazetta, who by her own account originated the first-name-only moniker, got her start in the industry as a 3-year-old jazz-singing prodigy sporting a black bob in her hometown of New York City. Known then as "Baby Rose Marie," she had her own syndicated NBC radio morning show, and by age 7 was performing on a national vaudeville tour. As she got older, Rose Marie dropped the "Baby" and broadened her talents to include comedy, theater, and film, while continuing to perform in the famous nightclubs of the era.
By the '50s, she moved with her late husband, Tonight Show trumpeter Bobby Guy (she is survived by their daughter, Georgiana), to Los Angeles and began the most famed chapter of her career — a pivot to television. She appeared in The Bob Cummings Show and My Sister Eileen, but got her big break as the clever TV writer Sally Rogers on The Dick Van Dyke Show, where she became known for her gumption among the fictional show's male-dominated writers' room and the ever-present black bow in her hair. She later donated the bow to the Smithsonian, noting that she wore it for a "very private, personal reason." She appeared in all five seasons, earning three Emmy nominations for her work. Following the news of Rose Marie's death, the show's creator and her longtime friend Carl Reiner tweeted, "There's never been a more engaging & multi-talented performer." She went from Dick Van Dyke to The Doris Day Show, and was a constant staple for two decades on Hollywood Squares.
Rose Marie worked up until her death, boasting a 90-year career, which is believed to be the longest active career in show business. In that time, she sang for everyone — from presidents to Al Capone and his mobster friends. In 2003, she published her memoir Hold the Roses, and this fall, was the subject of Jason Wise's documentary Wait for Your Laugh, chronicling nine decades of Hollywood through the lens of her storied career. A vocal member of the industry until the end, most recently Rose Marie made news for lending her support to the women speaking up about Harvey Weinstein's misconduct and Hollywood's predatory culture, poignantly tweeting (via her secretary), "I have suffered my whole life for that. Don't stop."
She recalled her own experience of a movie producer propositioning her on set to Vulture: "I said, 'You son of a bitch, you couldn't get it up if the flag went by!'" As retaliation, she said the producer had all of her songs cuts from the film and her role drastically reduced. The experience, however, didn't scare Rose Marie away from the business, and instead led to better luck in television. "Three years old to 94 years old. That's pretty good. I love my business. I love everything I have done," she told us. "If that's being selfish and conceited, I guess I am! I wouldn't be in it this long if I didn't love it. It was a beautiful life. In fact, I always say, if I had known how beautiful it was, I would have paid more attention to it."