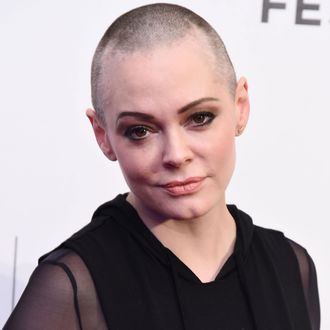 Photo: Ilya S. Savenok/Getty Images for Tribeca Film Festival
At next month's Golden Globes, the red carpet will reportedly get much, much darker: A large group of actresses are set to dress entirely in black as a way of silently protesting harassment and assault in Hollywood. Women including Meryl Streep, Emma Stone, and Jessica Chastain are rumored to be participating in this protest, although Rose McGowan thinks the all-black message is nothing more than a stupid little stunt. "Actresses, like Meryl Streep, who happily worked for The Pig Monster, are wearing black @GoldenGlobes in a silent protest," she wrote. "YOUR SILENCE is THE problem. You'll accept a fake award breathlessly and affect no real change. I despise your hypocrisy. Maybe you should all wear Marchesa." The Marchesa jab refers to Harvey Weinstein's ex-wife, Georgina Chapman, who co-created the brand.
Similarly, McGowan recently criticized her former Charmed co-star Alyssa Milano for supporting Chapman during her divorce process. "You make me want to vomit. You actually gave me a body flashback. Well done, fake one," she wrote at the time. "Alyssa, maybe you and Georgina can call up Camille Cosby." She won't be silenced anytime soon, that's for sure.