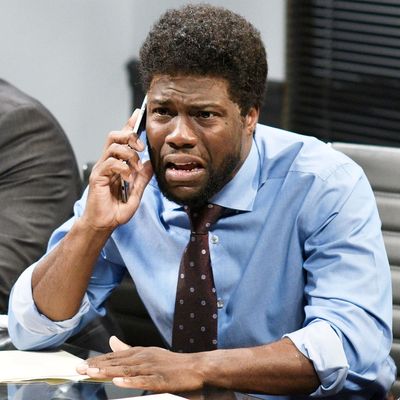 Photo: NBC/NBCU Photo Bank via Getty Images
This episode of SNL was a disappointment to me because I didn't get to see the one thing I wanted more than anything: Pete Davidson's new Hillary Clinton tattoo. Instead we got cameos ranging from the welcome (Scarlett Johansson), the tired (Alec Baldwin) and the delightful (a llama!). At the center was energetic Kevin Hart, who committed himself fully to characters like Shaq and off-brand Batman. I am used to screeching-caricature-of-himself Kevin Hart, not doing-impressions Kevin Hart. But I won't be satisfied until Pete Davidson does an Update desk piece where he explains all of his tattoos and why on earth he got them.
Cold Open
Choke me with a knife, Alec's back. This time the whole gang is decorating the White House Christmas tree with all the fallen allies of the Trump administration. Comey, Spicer, the Mooch, everyone gets an ornament on the Tree of Shame. This sketch didn't dig itself out of its Baldwin-hole until Alex Moffat's Eric Trump brought a macaroni star with cooked macaroni. "I waited for the water to get angry, and then I put the macaroni in," he helpfully explains. Mike Pence came by to hang a Mike Flynn ornament and object to the carol "Deck the Halls" because it mentions gay apparel.
Monologue
Kevin Hart did his standup for his monologue, an expected choice. If you like his standup, you will like this seven minutes of SNL. If you don't like it, you can do what I did and think about the SNL florist. I always pay attention to the flowers on the SNL stage. I often wonder if they've employed the same florist since the '70s, or if hot new firebrands get a chance to shine on a national stage. There's always a large bouquet behind the drummer, but the past two weeks have also seen the SNL stage kitted out for Christmas with so so many poinsettias.  Last week the poinsettias on stage were white, and this week they were red. I think I liked the white ones better, but the red ones are definitely more Christmas-y.  
Pandora Charms
Men be bad a gifting, am I right ladies? I enjoyed the smug looks the men in this #spon give as they unload ugly Pandora charms on their wives for Christmas. "I got him a motorcycle," says Kate McKinnon. "I got us a threesome," says Cecily Strong. Hopefully she can leave her lazy stereotype of a husband for this threesome woman. Women you meet in threesomes are excellent gift-givers.
Office Phone Call
Hart plays a man who pretends to get emergency phone calls rather than excuse himself from meetings to poop. At this particular meeting, his coworkers decide to rob this poor man of his delusions and let him know that he's really going to the toilet. I felt so sorry for this bashful man. Let him lie about his poops! Some people are very uncomfortable acknowledging that they have a butt. It's probably society's fault.
Captain Shadow
A black crime-fighting duo is pulled over by the police, because social commentary. The social commentary gets muddled when Captain Shadow does in fact have cocaine on him. Chris Redd plays the naive sidekick Cardinal with an annoying spunk that juxtaposes well with the dire circumstances he finds himself in. I was very glad Cardinal wasn't shot, which is where I thought this sketch was going. Also, I didn't know Kevin Hart had a Batman voice in him. This is good information to have.
Inside the NBA
Kevin Hart plays Shaq, "the only basketball player whose brain has aged like a football player" in a TNT roundtable. Did Hart want to do this sketch so he could feel tall? Again, the voicework from Hart was good, but the makeup to Shaq-ify him feels incomplete. He's got a puffy cranium, but just his regular mouth and jawline. 2017 Shaq is puffy all over. More Great Gazoo, less Shaq-fu.  
Weekend Update
My favorite part of Update this week was the nervous laughter when Michael Che called out GOP voter suppression tactics. My second favorite part was Guy Who Just Bought a Boat, who was back talking about his terrible weiner and work-mandated sex rehab.
Colin Jost and Michael Che always feel like they're hosting different shows. Jost is a deadpan joke reader. His delivery is intentionally emotionless like a Google Home robot. Michael Che is chatty and unrehearsed. The Venn diagram of their styles are two separate circles – there is no overlap. It's a jarring viewing experience.
Nativity Play
When this sketch started, I thought we were going to get a Christmas-themed version of the woke theater teens. Instead, I got a llama who didn't know he was on television, which is almost as good. Llamas have a fine tradition in sketch comedy, almost as rarified as the camel. Llamas are an inherently funny animal. They have two Ls in their name and their bodies look like capital Ls. And their lashes are long and luxuriant. Yet they are fierce creatures when provoked, which is what this sketch is about. That and their big dongs.
Christmas Party
Leslie Jones and Hart play a couple whose dominance and coercion-based sex games are not welcome at this Christmas party. Never has weird sex stuff left me so cold. What's the difference between this sketch and the fetish cam girls from Gal Gadot's episode? Is it the seeming lack of consent on Hart's part? His oddly Cosby-esque voice choice? The fact he never fully makes out with the giant teddy bear? Seriously, there's no reason to make the prop department find a giant bear if you're not going to tongue kiss it in a close-up shot. Also this was the second (third if you count Hart's monologue) sketch of the night that rested on 1950s ideas of what straight marriage is like. Jones never hit Hart on the head with a rolling pin, but we were very close.
Active Jack
A former fitness guru is taken down by the ravages of age. Death comes for us all, no matter how clean we eat or how many steps we take. And isn't that the best, cruelest joke the universe ever played? Happy Holidays.
Ice Skating Goodbyes
I choose to believe this was #spon for I, Tonya. Shoutout to all the cast members who refused to skate. The only time I ever went ice skating I broke my arm, so I totally get it. I was also very proud of Alex Moffat for just trying to skate prettily. Beck Bennett was doing ice dancing bits, Moffat was simply dancing on ice.