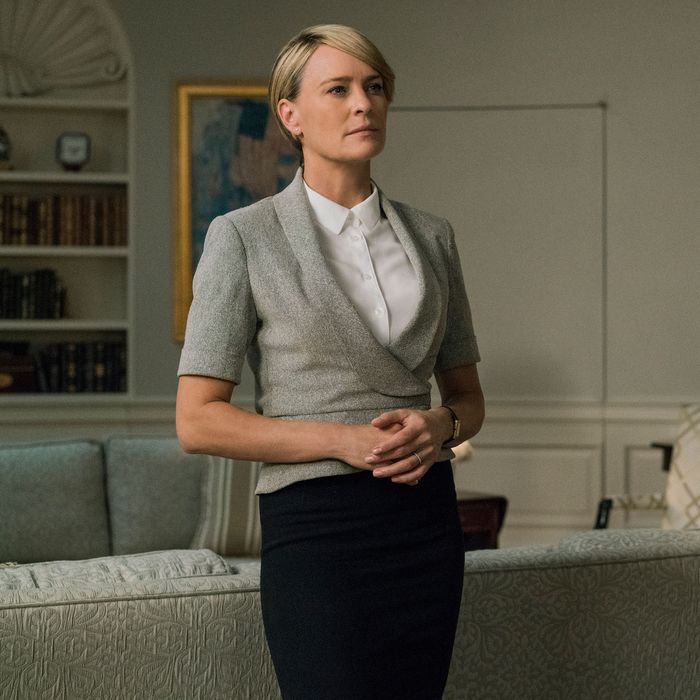 Robin Wright in
House of Cards
.
Photo: David Giesbrecht/Netflix
Amid the staggering revelations of alleged (and admitted) sexual misconduct in the entertainment industry, studio heads and creatives have been scrambling to scrap, sell, or stitch together films and TV shows that are now tainted by their association with accused industry figures. No instance of this damage control is as infamous as Ridley Scott's decision to completely cut out Kevin Spacey from the already finished All the Money in the World, replace him with Christopher Plummer, and still have it ready for its December 22 release. In order to make sense of an increasingly chaotic film and TV world, we've compiled all of the projects and programs that have been affected by allegations of sexual assault and harassment since Harvey Weinstein, organized by those who stand accused and the chronology of the accusations.
Danny Masterson
• Netflix announces that they've written Masterson out of the TV series The Ranch after four women accused the actor of rape.
Matt Lauer
• The Today show has yet to find a replacement for Lauer, who was fired by NBC on November 29 once the network was notified of a claim of sexual harassment, which then prompted a wave of allegations against the anchor to surface.
Charlie Rose
• Like Lauer, CBS has yet to find a replacement for Rose on CBS This Morning after the anchor was fired over numerous claims of sexual harassment and assault.
• PBS cut ties with the journalist as well, ending his eponymous interview show. Christiane Amanpour will replace Rose with a half-hour-long show, Amanpour on PBS, on an interim basis.
Russell Simmons
• After two allegations of rape were made against Simmons, HBO canceled its first-look deal with the mogul. Def Comedy Jam, which Simmons helped to revive, will still run on HBO, though his name will be removed from the series.
Mark Schwahn
• After allegations of sexual harassment surfaced from his time as showrunner of One Tree Hill, Schwahn is suspended from The Royals — the E! show he created and runs — by Lionsgate Television. The show's fourth season has completed production and is set to air in March, even though Schwahn is still under suspension.
Andrew Kreisberg
• Following a report in which 19 men and women accused Kreisberg of sexual harassment, the executive producer of Arrow, Flash, Supergirl, and Legends of Tomorrow is fired by Warner Bros. Kreisberg was only one of two people to have a hand in the shared universe of DC shows, putting more weight on the other showrunner, Greg Berlanti.
Louis C.K.
• Upon word that the New York Times would run a piece detailing C.K.'s history of sexual misconduct, distributor the Orchard cancels the planned November 9 premiere of the comedian's film, I Love You, Daddy. When the exposé does run that day, Orchard decides to not release the movie.
• HBO drops C.K. from A Night of Too Many Stars, as well as dropping his comedy special, Oh My God, and his sitcom, Lucky Louie, from its streaming service.
• Netflix cancels plans to produce a second C.K. stand-up special.
• FX cut ties with C.K., making moot any questions about future seasons of Louie and removing him as producer from Baskets, Better Things, One Mississippi, and The Cops.
• TBS suspends production on The Cops, an upcoming animated show C.K. co-created with Albert Brooks.
• Universal Pictures and Illumination drop C.K. from reprising his role as Max in The Secret Life of Pets 2.
Jeffrey Tambor
• After Amazon reveals on November 8 that it is investigating Tambor over allegations of sexual harassment — and further allegations of similar behavior surface — the actor announces he'll be leaving Transparent, while also denying the allegations. The show's fifth season is currently being written, with rumors that showrunner Jill Soloway will kill off Tambor's character, Maura Pfefferman.
Ed Westwick
• After three allegations of rape surface, BBC pulls an upcoming Agatha Christie holiday special, Order by Innocence, which featured Westwick.
• The Gossip Girl star also announces that he is "pausing" acting in the BBC series White Gold, which is filming its second season.
• BBC announces that Westwick's role in Order by Innocence will be recast with Christian Cooke and all his original scenes to be reshot.
Brett Ratner
• After accusations of sexual harassment by six women, Warner Bros. cancels its development deal with Ratner and his production company, RatPac.
• Playboy Enterprises decides to shelve a planned biopic of Hugh Hefner, which Ratner was set to direct.
• After Gal Gadot said that she wouldn't be in Wonder Woman 2 if Ratner remained attached to the film, Warner Bros. removes him as a producer.
Jeremy Piven
• After accusations of sexual harassment and assault against the actor by four women, CBS cancels the Piven TV series Wisdom of the Crowd, though it will air the 13 episodes that have already been made.
Andy Dick
• Dick is fired from the upcoming indie film Raising Buchanan in light of allegations of sexual harassment.
• Dick is also fired from another film, Vampire Dad, over reports of sexual assault.
Kevin Spacey
• After multiple accusations of sexual harassment, assault, and pedophilia, Netflix announces that production of House of Cards season six — set to be the series' last — is suspended. The streamer then cut ties with Spacey, and later announced that Cards would return for a final, eight-episode season without the actor.
• CBS cuts Spacey out of The Carol Burnett Show's 50th anniversary special.
• Ridley Scott announces he will be cutting out Spacey's performance as J. Paul Getty in the upcoming fact-based thriller All the Money in the World. He replaces Spacey with Christopher Plummer in just eight days of reshoots, in an attempt to get the film out by its December 22 release date — an unprecedented move reportedly costing $10 million.
• A planned biopic of Gore Vidal, titled Gore, in which Spacey would have played the titular role, gets shelved by Netflix while it's in postproduction.
Mark Halperin
• NBC fires Halperin from his role a senior political analyst after allegations of sexual harassment and assault during his time at ABC News come to light.
• HBO cancels plans to produce a project tied to Halperin's planned (and now shelved) book on the 2016 election.
• Showtime fires Halperin from his role as co-host of the political documentary series The Circus and is weighing whether to continue the show without him.
Harvey Weinstein
• After the New York Times' October 5 report on Weinstein's decades-long history of sexual harassment and assault — and the scores of women who later came forward to talk about their abuse at the hands of the producer — the fate of the Weinstein Company is thrown into flux. Weinstein is fired from the mini-major studio and the TWC name is scrubbed from current and former projects.
• The Current War and Polaroid both have their releases by TWC delayed from November of this year to sometime in 2018.
• Amazon drops an untitled, TWC-produced David O'Russell drama series set to star Julianne Moore and Robert De Niro.
• Channing Tatum announces he will no longer develop what would have been his directorial debut, Forgive Me, Leonard Peacock.
• Apple drops an Elvis biopic series from TWC that was in very early stages.
• Paddington Bear 2 is sold by the Weinstein Company to Warner Bros.
• Quentin Tarantino sells his untitled ninth movie to Sony Pictures, as the Weinsteins had previously released every one of his films.