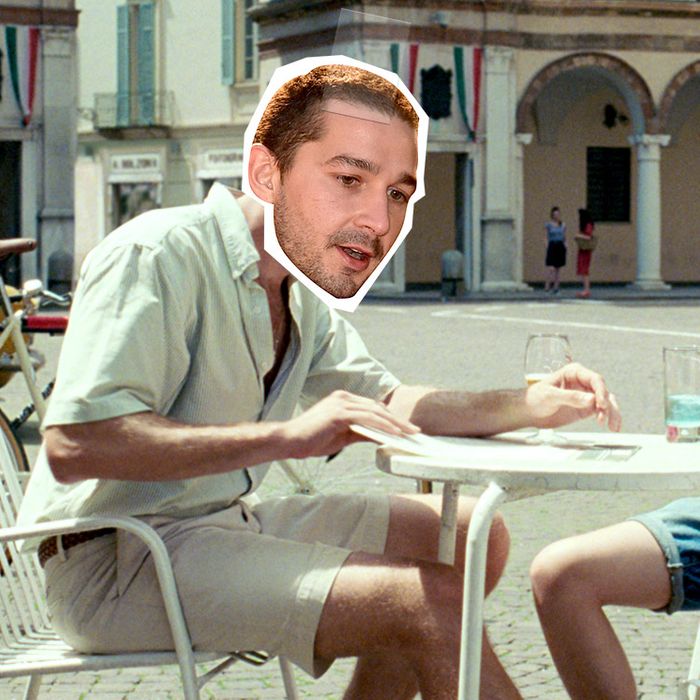 Photo-Illustration: Vulture
In Call Me by Your Name, Armie Hammer plays the all-American object of desire, but would the movie have worked as well if Shia LaBeouf had taken his role instead? That was the intent of original director James Ivory, who cast LaBeouf as Oliver, the grad student who romances a besotted young man in the acclaimed new film. When Luca Guadagnino took over the production, he remembered meeting with Hammer years earlier and thought the actor would be a better fit, but it's fascinating to imagine what might have been if the scruffy, unpredictable LaBeouf were cast as clean-cut Oliver instead.
That's just one of the ways that this year in film almost turned out very differently. Timothée Chalamet, the actor who stars opposite Hammer in Call Me by Your Name, almost had his breakout moment in another one of 2017's buzziest films: He was on the short list to play Spider-Man in the Marvel Cinematic Universe, vying with actors like Nat Wolff and Asa Butterfield to don the super-suit for a rebooted trilogy of films that began with the summer hit Spider-Man: Homecoming and eventually starred Tom Holland as the famous web-slinger. Another comic-book movie with a might-have-been casting is Wonder Woman, which tried to lure Nicole Kidman to play the titular superheroine's mother but lost her to a Big Little Lies scheduling conflict. Connie Nielsen eventually took that part, while Kidman segued to another supermom in the same cinematic universe as the mother to Jason Momoa in Aquaman, due out next year. And then there's Matthew McConaughey, who says he turned down a part in Guardians of the Galaxy Vol. 2. Director James Gunn has always claimed that Kurt Russell was the first choice to play Chris Pratt's father in that film, but could he have considered McConaughey to play Marvel character Adam Warlock, who had appeared in early iterations of Gunn's sequel story?
Instead of heading into space for that surefire success, McConaughey starred as the villain in this summer's misbegotten Stephen King adaptation The Dark Tower, which director Ron Howard once tried to mount with Javier Bardem as the gunslinging protagonist and Russell Crowe as his adversary. Once Howard let the project go, Idris Elba was cast as the gunslinger, and that's not the only long-germinating project Elba came onto late in the game: The survival romance The Mountain Between Us, where Elba stars opposite Kate Winslet, was almost shot years earlier with Charlie Hunnam and Rosamund Pike. Hunnam had hoped to star opposite his Pacific Rim colleague Elba in Guy Ritchie's wannabe franchise-starter King Arthur: Legend of the Sword, but Djimon Hounsou ended up with that supporting role. One role Elba wanted and didn't get, though, was vain Gaston in the live-action version of Beauty and the Beast: He auditioned for the role and even sang, but director Bill Condon cast Luke Evans instead.
Hunnam delivered one of his best performances this year in James Gray's adventure drama The Lost City of Z, but Gray had pursued Brad Pitt for a year to take that lead role, then planned to make the movie with Benedict Cumberbatch until he dropped out two weeks before production because of his wife's pregnancy. Other movies that changed their casts over development delays included It, where original director Cary Fukunaga wanted to cast Will Poulter as the terrifying clown Pennywise, and The Glass Castle, which had Jennifer Lawrence attached years ago (when she fell out of that fact-based drama, Brie Larson came onboard). And, of course, there's our dear departed friend Tulip Fever, a truly cursed production that was nearly shot in 2004 with Jude Law and Keira Knightley starring. The movie was made almost a decade later with Dane DeHaan and Alicia Vikander, though even after it was finished filming, the road to release wasn't easy.
You'll soon be seeing John Boyega in Star Wars: The Last Jedi, but it's rumored that he and Logan Lerman both hotly pursued the title role in Baby Driver that ultimately went to Ansel Elgort. Another hot Star Wars–related rumor: For a while there, it looked like Jane the Virgin star Gina Rodriguez was in contention alongside Tatiana Maslany and Olivia Cooke for a significant new role, likely the part won by Kelly Marie Tran. We'll soon see how Tran fares in the film, just as viewers of this month's Downsizing can imagine how the film would have been different with the originally cast Reese Witherspoon as Matt Damon's wife (though it would have been a reunion with her Election director Alexander Payne, Kristen Wiig ultimately ended up with that role) and, in perhaps the more notorious example of a recent recasting, compare late fill-in Christopher Plummer to the work originally done by a makeup-aided Kevin Spacey as J. Paul Getty in Ridley Scott's All the Money in the World.