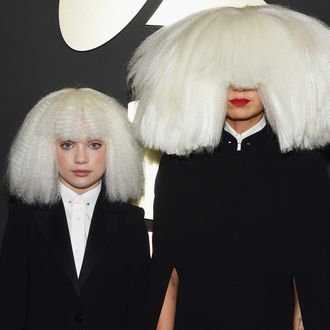 Maddie Ziegler and Sia.
Photo: Larry Busacca/Getty Images for NARAS
Sia has long been worried about the price of fame, and the spotlight-averse singer extends her anxieties to Maddie Ziegler, the 15-year-old dancer who has appeared in many of her music videos and on tour. The Grammy-nominated artist defended her frequent collaborations with the teenager after The Guardian published an article on Wednesday titled, "The Sia conundrum: if fame is so damaging, why pass it on to a child?" The article argued that since Sia chooses to wear oversized wigs when appearing in public, largely due to her own personal issues related to the backlash of fame, it's a strange choice to place that spotlight on a child performer, who is the main visual element of the singer's current tour.
"This article poses a question I have asked myself often," Sia wrote on Twitter. "I do check in with Maddie weekly about whether she wants this, and assure her if she ever wants it to stop it stops." She went on to explain that she believes that young artists, directors, parents, and agents should have regular conversations about fame and its price on the child's life. And, since teenagers "cannot, or should not be charged with making sound choices," she attempts to "choose the best for her always."
Sia does point out that Ziegler, who appeared on the reality show Dance Moms, was already famous when the dancer first took the mini-Sia part in the "Chandelier" music video in 2014. Yet, she feels responsible for Ziegler's expanded exposure. Sia explained, "I feel very protective of her and my goal is to empower her in whatever choices she makes." She added, "What I learned from Maddie is that fame affects her differently than how it affected me. I can only trust that she is telling me the truth."