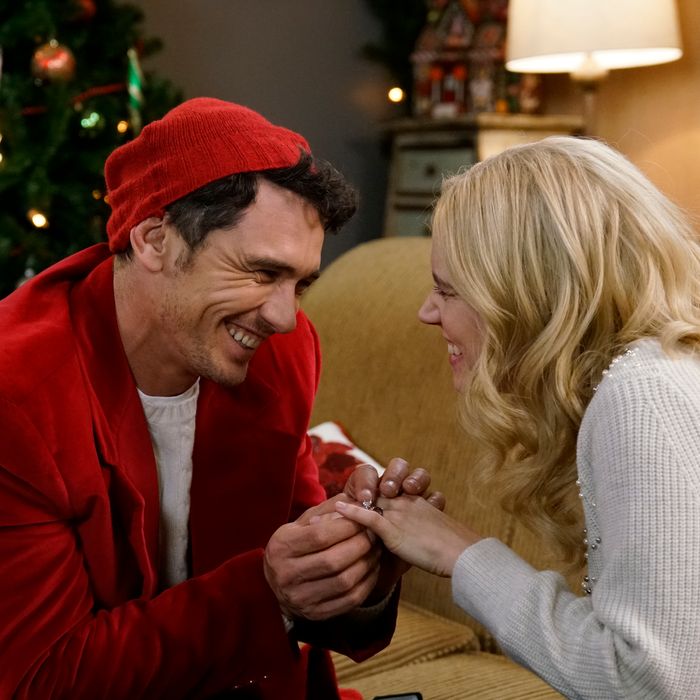 Photo: Kailey Fellows/NBC
This marks James Franco's fourth time hosting, which means he's both a familiar and reliable presence at SNL. Since his first turn in 2008, the sunny, squinting heartthrob with the perma-stoned glaze has played everything from a bridge troll to James Dean. More than willing to indulge the writers' whims (and chew a little scenery while he's at it), Franco has played a part in many recurring sketches, including one with the overly affectionate Vogelcheck family and one of Bill Hader's Vincent Price specials. Although he's yet to create a character that transcends the bounds of a sketch, he's game for seemingly anything. And, as he's just released The Disaster Artist — a film about The Room, "the Citizen Kane of bad films" — the timing is certainly good for Franco to deliver a memorable comic performance.
Visit With Santa Cold Open
It's a Christmas like any other, but as kids line up to sit on Santa's lap, they have a few concerns: What did Al Franken do? Is President Trump on the naughty list? Which list is Roy Moore on? For his part, Santa (Kenan Thompson) would rather sidestep the politics and talk toys instead. "A toy like the one Matt Lauer gave to his co-worker?" one of the kids wants to know. Seems the children have grown up too fast, and at least one of them wants to know everything will be okay. Santa's helper Amy (Kate McKinnon) reassures young, worried Jenny that eventually, good people will fix our country. Though this sketch gets sidetracked by a few kids who can't quite get their lines out, the unexpected framework and innocent perspectives definitely work in its favor.
James Franco Monologue
According to Franco, during your fourth time hosting, SNL writers just "throw you [onstage] and make you take questions from the audience." As he fields queries like, "Do you see an arc to your career?" and "What time is it?" Seth Rogen tries to remain inconspicuous in the second row. Turns out Rogen refused Franco's earlier offer to do a sketch on the show, and only showed up to see musical guest SZA. Jonah Hill takes his seat next to Rogen, not even sure who's hosting. Up in the balcony, Steve Martin is resentful because he's no longer a hot property. As a few minutes of cameos, it's fine; as an attempt to take the piss out of Franco, there's nothing sharp or surprising about it.
Sexual-Harassment Charlie
As Betacorp evaluates complaints about sexual harassment in its workplace, the higher-ups have decided to fire CFO Doug (Franco) and the aging front-door guy, Charlie (Kenan Thompson). While Doug and Charlie apologize to their officemates, the ladies are far more lenient toward the chipper, graying old man who tells women, "Don't hurt nobody with that thing," than they are with the younger guy who tells them why they should smile more. Charlie's confessions devolve into fantasies about kidnapping and tying up husbands so he can have sex with their wives — but it's all still just "classic Charlie." Truth be told, Charlie is not being fired for his mouth but the fact he's been stealing money, cocaine possession, and a half-dozen other things. It's a clever examination of where collective affection can trump righteousness, and Kenan Thompson is a freakin' delight.
Gift Wrap
It's Christmas time at Bloomingdale's, and Don (Franco), a very excited member of the gift-wrapping department, just can't get enough of the season. Even though he gives himself a paper cut and starts spraying blood everywhere, he won't step back and let his co-worker (McKinnon) wrap the gifts. Things get much worse: He spits blood in a customer's face, then cuts off a few fingers and part of his leg in the name of holiday spirit. Really, though, this sketch is about whether Leslie Jones will throw up. She's the customer who gets a faceful (and mouthful) of stage blood, and she can't stop gagging long enough to get her lines out. The mix of glee and dread on her fellow performers' faces — namely Thompson and McKinnon — lets the audience know how dire things onstage have become. Not for the faint of heart, but recommended for the beautiful disaster and Franco's ongoing commitment to the bit.
Scrudge
Though he's a little hesitant to do so, a guy (Mooney) invites his roommate Scrudge (Beck) to a friend's Christmas party. The guy's hesitance is not unfounded, because once at the party, Scrudge is a complete dick: He insults everyone, swills their liquor, and bums their last cigarettes. Once on the roof, Scrudge bumps into an angel in disguise (Franco), who suggests Scrudge look down through the skylight because he "might not be as cool" as he thinks. Scrudge overhears his friends talking about how terrible he is and decides to mend his ways … sorta. The premise isn't bad — a modern-day Scrooge who is somewhere between an asshat and a douchebag — but Scrudge's bad behaviors don't feel playful enough to transcend their nastiness.
Spelling Bee
In the second round of the Iowa City All-District Spelling Bee, moderator Kevin Black (Franco) keeps bringing up words that have very curious definitions and context sentences. The hint for "berate," involves someone being emasculated by a stepfather's "feminine nicknames," and "chagrin" is defined as the feeling one might have after your stepfather tells the entire lacrosse team that you haven't grown pubes. Black reveals more and more about himself until the word is "Little Pig Boy," and he's telling David (Pete Davidson) about being a "pathetic dirty bitch baby that mistress gets to stand on." This wonderfully sick sketch builds incredibly well, and some well-crafted lines even get Franco giggling.
Weekend Update
There really is no such thing as a slow-news week in our current climate. This round, Update examines everything from Trump's recognition of Jerusalem as the capital of Israel to the L.A. wildfires. Highlights include this week's three resignations in Congress ("You know what that means: Time to open three more doors on our sexual-harassment-themed advent calendar") and Trump's endorsement of Alabama's creepy Senate candidate Roy Moore. On Trump's use of the phrase, "Go get 'em, Roy," Colin Jost says, "'Go get 'em, Roy,' is what Roy Moore whispers to himself right before he walks into a Hot Topic." Cecily Strong comes on as Cathy Anne, the twitchy former drug addict with a penchant for malaprops. She talks about the nation's changing relationship to sexual assault and harassment allegations, including Al Franken's resignation and why Democratss taking the moral high ground doesn't mean a thing ("As if everyone in Alabama was on their edge of their seat, wondering what Kristen Jellybeans was going to do about Al Franco"). For someone who is "a political junkie and a regular junkie," she makes some cogent points.
The second half includes just a few jokes before Michael Che plays a short film about his quest to understand liberal, white women … by becoming a liberal white woman named Gretchen. Che goes undercover, wearing a blonde wig but no makeup, and saying things at dinner parties like, "Your masculinity is mad toxic, my nigga." This is a jab at the kinds of well-off people who feel they need to speak up for others of different ethnic or cultural backgrounds, and while it's a little snotty, it's a fair examination of self-righteous behavior.
Za
At the trial of one Mr. Reynolds (Pete Davidson), the prosecutor (Franco) can't quite get over one detail in the defendant's alibi: The fact that Reynolds was supposedly at a pizza shop eating 'za. The prosecutor is convinced that nicknames should be based on how things sound, not on the way they're spelled; therefore, "zah" should refer to lasagna, while "zuh" should be short for pizza. So adamant is the prosecutor that he flies into a frenzy of zahs and zuh," showing off visual aids to prove beyond a reasonable doubt that his idea is correct. After a pizza-delivery guy walks in with a "zuh" for the defendant, it's all very clear. The prosecutor doesn't even need to use a photo of Reynolds at the scene of the crime. This isn't just a one-joke sketch, but a one-syllable sketch. In any case, Franco sells the silliness well.
Christmas Charity
In this filmed sketch, a high-powered professional (Cecily Strong) buys a shivering homeless man (Franco) a coffee and a Danish in the spirit of Christmas. Feeling generous, she then sweeps the man into Rothman's for a new wardrobe, eats hot dogs with him on a pedicab ride, and takes him to her place where she scans wanted ads in search of his future employer. It's only when she approaches him with a razor to shave his beard does the truth come out: He's actually James Franco, researching a part. He stayed quiet because he's used to people buying him things. It's cute and charming enough, but the "it was all a dream!" reveal is disappointing after the long walk.
Reunion
On the porch of his mom's place, while the big family reunion is going on inside, James Franco bumps into his cousin, "pretty Mandy" (Heidi Gardner). She wants to know everything: Whether he still goes swimming, whether he still eats candy, and whether or not he might need help. Sure, he's a Hollywood star but does he remember when he "used to make good movies"? Mandy is doing pretty great herself: She got a bull's eye playing darts back in October, and the bar even named a drink after her. (Okay, it was just gin with a straw in it, but still.) Eventually, Franco's brother, Dave, emerges and gets star-struck by Mandy. The switcheroo is fun, but the most enjoyable aspect is Gardner's self-assured oddball — a nasal, fanny-pack-and-fingerless-glove-wearing lady in the Lebowski mold.
Once again, James Franco proves himself an adept SNL host. If anything, sketches like "Gift Wrap" and "Za," prove his commitment to bits has only improved. Of course, not everything hits home, but the show makes room for a lot of different sketches: character pieces, gross-out gags, writerly obsessions, and literary spoofs. Given that the straightforward political opens haven't succeeded this season, the writers are wise to try out another, unlikely sketch structure. That paid off, too. Next week, Kevin Hart will undoubtedly mug his way through the last show of the year.