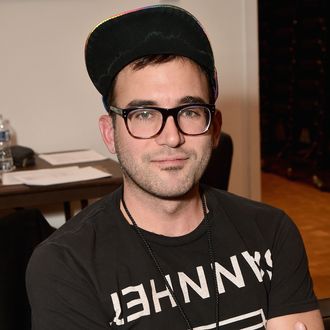 Awwww.
Photo: Theo Wargo/Getty Images for Tibet House US
The work Sufjan Stevens did for Call Me by Your Name is crucial to the film, but, it turns out, he could've been inserted into the actual story. In addition to writing and performing the film's devastating final song "Visions of Gideon," as well as the movie's "Mystery of Love," Stevens tells Deadline that director Luca Guadagnino wanted him to narrate the whole film. In the book, Oliver and Elio's summer love is told in hindsight, and in the film's original script, an older Elio tells it. In this version, Stevens would have voiced that perspective in the film. "I wanted to envelop the movie in the voice of Sufjan Stevens," Guadagnino explained to Deadline. But Stevens, who read the book after Guadagnino approached him for the film, disagreed.
What's more, he says Guadagnino also wanted Stevens to appear in the film as a sort of bard and perform one of the songs "almost as a break in the narrative." "I got back to him and I said, 'I think this voice-over is a mistake, and I think the interruption of me singing the song is a mistake," he says he told Guadagnino. "I think he was just thinking out loud. I don't know if he was really committed to the idea. So I said, 'I'll write you some songs, but that's all I think you need from me.'" It worked out for the best: "When I saw the first edit, he said, 'You were right, this doesn't need a monologue or an interruption.'" Stevens says he wrote those songs without having seen any footage, while touring Carrie & Lowell, but trusted that Guadagnino would know how best to use them. No spoilers, but maybe don't skip out on the credits if you wanna see that trust really pay off.