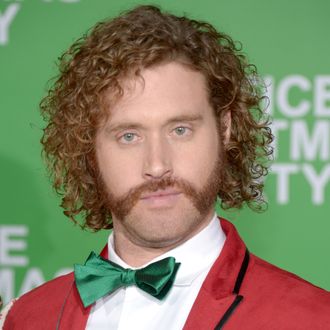 T.J. Miller.
Photo: Matt Winkelmeyer/Getty Images
The comedian T.J. Miller has been accused of sexually assaulting and punching a woman in an incident that took place while he was a student at George Washington University, according to a report from the Daily Beast. Miller and the woman in question, who remains anonymous in the Daily Beast's reporting, entered into a relationship in the fall of 2001. She recalled an incident where they were allegedly "fooling around" at her place and Miller began "shaking [her] violently" and punched her in the mouth. Later in their relationship, she claims Miller repeated similar actions, choking her, anally penetrating her, and using a beer bottle to penetrate her without her consent. The woman's housemates at the time recalled overhearing the incident when it happened, and that they were concerned by the bruises that they saw on her body the day after.
Almost a year later, the woman says she went to the campus police. She says she did not want to take the case to the local police, so her allegations were handled by the student court. After a several-week-long trial period, the court told the woman that her issue had been resolved, but did not reveal in what way. Miller, who was in his senior year at the time, did graduate, though it is unclear whether he may have been pushed to do so early by the school.
Rumors of Miller's alleged actions have trailed him throughout his career, and several comedy professionals who spoke to the Daily Beast confirmed that they had heard of them. Miller's friends at the time, some of whom testified in student court, continue to deny that he would act in such a way. Miller, who left Silicon Valley earlier this year to appear in other projects, and his wife, Kate, a college classmate, issued a statement denying the accusations brought against him in a statement. "We met this woman over a decade ago while studying together in college, she attempted to break us up back then by plotting for over a year before making contradictory claims and accusations," it reads in part. "She attempted to discredit both of our voices and use us against one another by trying to portray Kate to be a continuous abuse victim of T.J. (further efforts to hurt the two of us)."