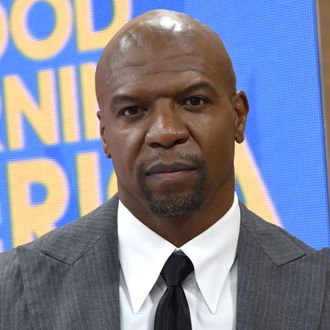 Crews.
Photo: Paula Lobo/ABC
Terry Crews has taken further legal action against the Hollywood agent he says groped him. TMZ reports that Crews is suing WME agent Adam Venit for sexual assault stemming from an incident at an industry party last year where Venit allegedly grabbed Crews's genitals more than once without his consent. Crews reported the incident to the LAPD last month. In his lawsuit, Crews describes Venit's alleged behavior that night as akin to a "rabid dog, sticking his tongue in and out of his mouth provocatively." Crews claims that Adam Sandler, a client of Venit's whom Crews notified of the incident at the party, checked on Crews after he left; Crews told Sandler he was "surprised he got molested at age 48."
The suit notes that Crews also called his own agent at WME the following day to report the alleged assault, and that Venit later called Crews to apologize, saying he "was just not himself that night." Crews says he also met with WME's chairman Ari Emanuel, who apologized for Venit's misconduct and told Crews that Venit did not have the power to blackball him as Crews had feared. Following Crews's tweets in October revealing the alleged incident, Venit took a leave of absence from the company, though he went back to work at WME late last month. "Someone got a pass," Crews said of Venit's return.