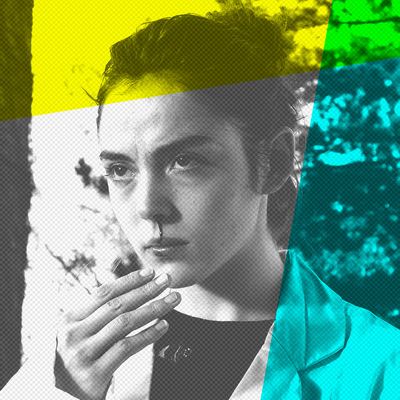 Photo-Illustration: Vulture and Focus World
From start to finish, 2017 was an excellent year for horror fans. While box-office attendance was hit or miss for some of the year's biggest blockbusters (you deserved better, Valerian, even if you didn't, Transformers: The Last Knight), a bumper crop of low-cost, high-quality scary movies generated consistently massive profits in theaters. Jordan Peele's directorial debut, Get Out, was both a historically important entry into the suspense-cinema canon, and one of three horror films to break the $200 million mark at the global box office, along with M. Night Shyamalan's Split and Andy Muschietti's reboot of It. (The slate of contenders for best horror of the year was so packed, neither of those worthy efforts even made the final ten.) But as fun as money is, the big stories in horror this year were outstanding debut features and a continued ascent for women in front of and behind the camera. Directors Julia Ducournau and Alice Lowe made knockout first films as writer-directors, and performances from actresses like Lowe, Carla Gugino, Garance Marillier, Emma Booth, and Catherine Walker demonstrated that the future of the genre is bright, thanks in large part to the fact that it's looking more and more female every year.
10.
Happy Death Day
A bratty college girl wakes up in a strange boy's dorm room on her birthday, does the shame-walk back to her sorority, and gets killed on her way to a rager that night. That sounds like the opening death in a slasher movie in which said bratty girl will never be heard from again, but in Happy Death Day, it keeps happening over and over and over again. Tree Gelbman (Jessica Rothe) doesn't know why she keeps dying and coming back, but she does come to the conclusion that if she wants to move on with her life — or at least see it mercifully end — she has to unmask her killer. In a lesser movie, this Groundhog Day premise could get tired real fast, but Happy Death Day is aware enough of its own absurdity to be in on the jokes, and willing to make them before you do. This movie is as sweet as it is mean, which adds up to lots of fun, and new face Rachel Matthews is flat-out excellent as the head bitch in charge of the sorority house. It also managed to rake in more than $100 million at the global box office, proving it's a slasher you'll want to keep revisiting — over and over and over again.
9.

Creep 2

Mark Duplass and writer-director Patrick Brice have put together an excellent follow-up to their micro-budget Creep from 2014, in which Duplass plays an amiable serial killer who prefers to forge weird bonds of friendship with his victims before doing them in. This time, Desiree Akhavan plays a videographer on hand to film Duplass's character (he's changed his name from Josef to Aaron) as they spend a day together in a remote cabin. Creep 2 is tense and uncomfortable and features one of the best nude scenes of the year. It's also a clever deconstruction of a serial-killer movie, powered by an extremely discomfiting performance from Duplass in fully scary mode — made even more disturbing as a foil for the steady, confident presence of Akhavan.
8.

Prevenge

Alice Lowe wrote, directed, and starred in Prevenge, and it's one of the most darkly delightful movies to come out this year. Lowe plays Ruth, a pregnant woman mourning the death of her partner, and processing the grief by taking orders from her angry fetus to kill a bunch of people. Pregnancy horror is a genre unto itself, but it rarely affords its leads as much agency as Lowe gives Ruth in Prevenge. The result is some of the most empowering body horror you'll find, and in a year when women became even more of a force in the genre as both creators and dynamic lead characters, Lowe's complete effort is an excellent example of what good comes from letting women tell their own stories.
7.

The Devil's Candy

Australian director Sean Byrne's long-awaited follow-up to his 2009 hit The Loved Ones is at once an ode to heavy metal, an endearing family drama, and a wonderful serial-killer movie rooted in a demonic-possession story. Ethan Embry plays a metalhead and aspiring artist, the head of a working-class family that's struggling to make ends meet. They can't resist buying a house on sale for a criminally low price, but the realtor neglected to tell them that the previous owners were killed by their son after the devil told him to do it. (To be fair, there's hardly a box for that on Zillow.) The Devil's Candy has plenty of thrashing guitar, an unexpectedly touching father-daughter dynamic, and eventually, lots and lots of fire.
6.

Gerald's Game

This Stephen King adaptation from designated horror hitter Mike Flanagan feels like a scary movie for grown-ups. Carla Gugino and Bruce Greenwood play Jessie and Gerald, a married couple looking to put some zest back in their relationship with a weekend getaway. Jessie insists she's up for new experiences, but things get too rough too fast after Gerald cuffs her to the bed and starts playing out a rape fantasy she didn't know he had. The situation goes from distressing to harrowing, though, when Gerald dies of a heart attack, leaving her chained to the bed with little to no hope of rescue. Gugino delivers a powerful, nuanced performance, playing both the victim on the bed as well as a bolder manifestation of her subconscious self that tries to guide her through the situation — and through past traumas that have landed her in handcuffs with someone like Gerald in the first place. Gugino's Jessie is a case study in the duality of feminine strength and vulnerability onscreen, embodying the virtues and perils of both.
5.
The Killing of a Sacred Deer
Director Yorgos Lanthimos excels at turning his movies into completely immersive worlds, worlds that exist not as a mirror of our own, but adjacent to the one we live in — slightly askew, with awkward social customs and ways of communicating. His films kind of feel like long, uncomfortable nightmares. Much like Lanthimos's The Lobster, Sacred Deer starts off as absurdist dark comedy with a droll European sensibility, but as Vulture's Emily Yoshida writes, there's a transition point at which it becomes "abundantly clear that the artful thriller you're watching has actually been a full-throated horror movie all along." The tension of the movie is so effectively sculpted that your whole body will want to reject the experience, even as it's become totally irresistible.
4.

Hounds of Love

Fun fact: Australians make really good suburban crime horror. (See Lake Mungo and The Snowtown Murders for proof.) Hounds of Love is the debut feature from Ben Young, and it tells the story of a mildly rebellious high-schooler taken prisoner by a couple that kidnaps local girls, makes them sex slaves, then kills them. Young does a phenomenal job of leaving the worst of the violence offscreen; he knows there's little value showing a brutal rape when a cutaway will deliver the message just as well. But it's the movie's female victimizer (Emma Booth) — herself trapped in a cycle of abuse and infatuation with her murderous boyfriend — who takes Hounds to the next level, and who drives one of the most nerve-racking finale scenes of the year.
3.

A Dark Song

A Dark Song is the feature debut of Ireland's Liam Gavin, who comes on the scene strong with this meditation on grief and loss. A woman becomes obsessed with reaching her dead son, and hires an occultist to guide her through a months-long ritual that will allow her to interact with the spirit realm. One big catch: Once the house has been bound, no one can leave it until the process is done. In an isolated country manor, she goes through one ordeal after another: Is her guru just a charlatan? When strange things start to happen, is it truly the divine, or just her paranoid mind? One thing is certain, though: When you open the door for the dead, you have to be prepared for whatever comes through.
2.

Raw

French director Julia Ducournau's first feature knocked critics out as it made its way around the festival circuit last year, and it finally hit U.S. theaters in March. It's a coming-of-age drama mixed with cannibal horror, following an academically overachieving and socially underachieving girl who finds herself living in the shadow of her more popular older sister now that they're both in veterinary school together. If that weren't bad enough, a terrible hazing incident leaves her with an insatiable new hunger. Actress Garance Marillier proves she's a breakout talent as the repressed and increasingly rebellious lead, and Ducournau delivers a beautifully shot look at the terrifying bridge between being a teen girl and a young woman. Raw doesn't lazily lean on gratuitous violence, but it does provide just enough blood for the gore-hounds out there.
1.
Get Out
Believe the hype. Jordan Peele's directorial debut is funny, frightening, and one of the most incisive pieces of social commentary ever made in suspense cinema. The story of a black man going home to meet his white girlfriend's family, only to discover an unsettling plot, is one of Vulture's best movies of the year, and as the movie inverts the typical expectations and character arc of its black lead, it becomes a landmark moment in horror cinema. Get Out started 2017 with superlative reviews and a huge box-office haul, and it's closing the year as a serious awards-season contender, with critics' associations handing over accolades and strengthening its case for recognition at the Golden Globes and Academy Awards.