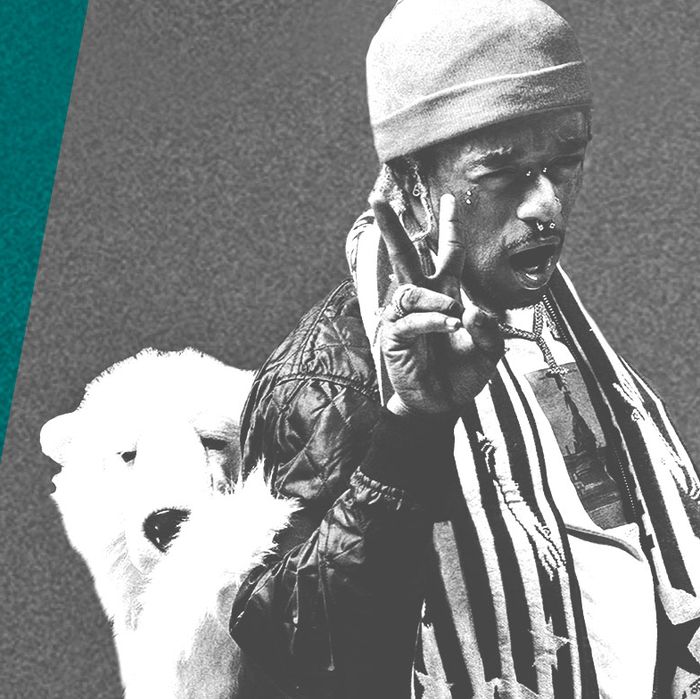 Photo-Illustration: Vulture
Over the next few weeks, Vulture will be publishing our critics' year-end lists. Today, we're looking at the best rap albums.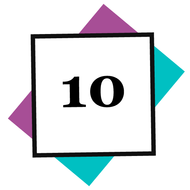 First, let's not walk into 2018 without recognizing that rap music, after all these years, is still a place you can go when you just want to learn something, and believe more in yourself. In 2012, Lil B was releasing more than a dozen tapes a year. Since, that velocity has slowed, and Black Ken — which he started working on in 2010 — is his first major project since 2015. Entirely self-produced, it's a reminder that purposely abandoning what you think you know is a gift you can give yourself. From Lil B scholar Duncan Cooper: "Black Ken showed that Lil B had confidence and dedication. It has these weird old-school elements that contextualize his other output. It's not that he's doing a No Limit phase or an abstract ambient phase or a Tupac phase. It's just him being a student of music and exploring its history, piece by piece. That's an achievement of DIY. Also, he says 'I own my own masters, so I'm a real rapper.'" This year, rappers had more proven earning power than ever, and more options for distributing and marketing their work without traditional label backing. But in any year, that line rules.
Also great in self-made milestones: Chief Keef's Thot Breaker, Wintertime's Wintertime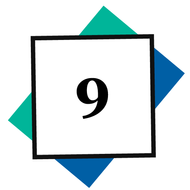 In his short life, MIKE has lived in New Jersey, Hackney, Essex, and Brooklyn. This year, he was separated from his mother, who was in Nigeria dealing with visa issues. On May God Bless Your Hustle, he comes off as a motivated person who recognizes his own responsibility to make himself happy, while struggling to tolerate the discomfort that accompanies figuring out what you want from life, and how you'll get it. May God Bless Your Hustle expresses the weight and leisure of loneliness; it wouldn't have been made if MIKE didn't take time to distance himself from other, perhaps more urgent activities. It is sad, but it's restorative too. With damp production from some of the talented, jazz-interested friends MIKE has made around New York, the album is ultimately a community-oriented product. Maybe it's impossible to become happy before getting right with yourself. But one of the most valuable things a happy person can do for themselves is accept help from other people, and survive along with them.
Also great in reasonable angst from New Yorkers born into the generation where many are worse off than their parents: Wiki's No Mountains in Manhattan, Deem Spencer's we think we alone.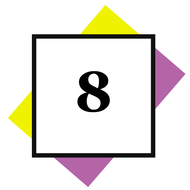 At 30 years old, Meek Mill has been on probation for most of his adult life. In November, he was sentenced to two to four years in prison for a violation of that probation. In a New York Times op-ed in his defense, Jay-Z wrote that Meek has been "stalked" by the justice system. "When you got a white lady in a courtroom, who don't know you from a can of paint, saying I'm not shit and I need to be put in jail? That's offensive to me," Meek said himself in 2015. "I look at that as racism. I take that personally." That feeling of not being valued has always been baked into Meek's music, and it is especially present on this comeback album, where he has a lot to prove. Wins and Losses was released before the public outcry against Meek's return to prison, but after he lost a case, and his protégé Lil Snupe, and his celebrity girlfriend Nicki Minaj, and a public spat with Drake. On it, Meek is viciously distrustful of powerful people, whether they're judges or just famous. He zooms further out to remind listeners that he became a rapper after his father was murdered, and was always tasked with protecting his own ambitions. Like many of his fans, Meek Mill is a winner just for being alive, soul intact.
Also great in no losses: 2 Chainz's Pretty Girls Like Trap Music, A$AP Ferg's Still Striving.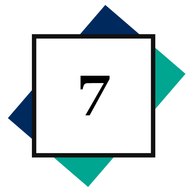 NBA YoungBoy (let's call him this, the name he chose before the threat of copyright issues) was born at the very end of the 20th century, in 1999. Now 18, he grew up watching Chief Keef videos, and in the radius of the beloved oral historian Lil Boosie. In the past two years he has put out nine projects, a career's worth for some. With a fire-starting video and lots of local shows, he won fans across the South quickly. Perhaps because they were the kind of listeners who stream more on the ad tier than the paid tier, he was hiding in plain sight until more recently, when he was signed by a major and, in May, released from a jail stint, stemming from November 2016 charges for opening fire on a street in his hometown of Baton Rouge. AI YoungBoy, from August, celebrated his freedom. It's a spotless introduction to his world, where at best you can expect people to play with you and at worst, shoot up your grandma's house. In turn, by necessity, YoungBoy positions himself as ready for anything. The production is keyboard-computer blues and the scenes are bleak, but YoungBoy is rowdy and earnest, not numb. A rising star who'll live with the anxiety of probation for the next three years, he's a lonely Romeo on ballad "No. 9." On "Dedicated," he's lobbing his heart and body down on the table with the sincerity of a kid, which he still is. "I ain't quittin' and I put that on my soul," he sings, in a sweetly liberated croak. "I'm dedicated, that's on everything I know."
Also great in new American folklore: Goldlink's At What Cost, OMB Peezy's Humble Beginnings.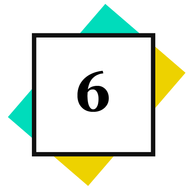 In response to Lemonade's dismantling of his carefully crafted myth, Jay-Z's apology album perfectly lands moves from Beyoncé's own playbook: a short runway rollout, slick cover design, thoughtfully educational talking points. Who else could afford to clear that Stevie Wonder sample? These are royals who still care about the people's respect, who also lay bare to their public only as much as they are willing to. Here, Jay endorses the politics of black self-sufficiency Beyoncé has insistently championed (and he has embodied); and like her, does so only on his own terms. When you grant an unprecedented, two-hour interview to journalists you've hired to make content for the streaming platform you own, you don't have to answer to anyone, and never have to lie. Perhaps, then, it's most appropriate to summarize this record's strength in Jay's own words. To the editor of the New York Times, who doesn't work for Jay-Z but exalts him all the same, Jay described the revelations of this chapter of his career: "Oh my goodness, oh, the most beautiful things are not these objects," he said. "The most beautiful things are inside. The most beautiful things are the friendships I have. I have really golden friendships. The compassion and the person I've become — that's what this chapter is. You know?"
Also great in figuring out how to be old: Drake, More Life.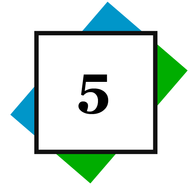 03 Greedo is a rapper from Watts who got serious about making music years ago, while in jail. After charges stacked up on his record, he felt free enough to tattoo "Living Legend" on his face. After he was shot, he was told he should amputate one of his legs, but he chose not to, so he runs with a limp. On the video podcast No Jumper, in October, he took care to insist that he is "not a gangster rapper." Greedo produces his beats and sings his hooks. When he records himself, he does not belabor lots of multiple takes. Drawing influence from Los Angeles but also the sideshows of Sacramento, backwoods of Kansas, and strip clubs of St. Louis (all places where he has lived), his sound is pan-American. At a time of short attention, Greedo's appetite for a mélange of styles is comforting, and his albums are long. This release, his second of three in 2017, runs 90 minutes and has 30 songs. They fall all over the map, at turns senseless, stressed-out, and soulful. Taken together, the music is, in Greedo's words, "'90s, churchy, black-ish shit," as much like SZA as it is like G Herbo. That range is relevant to all of his 2017 releases, but this project is my favorite because it has "Run For Yo Life," where Greedo is at his Zen best: off drugs, and realizing there's love in the air in front of him. He says he's scared of it, but he sounds ready to skydive right in.
Also great in slaptastic emo: SOB x RBE's SOB X RBE, Mozzy's 1 Up Top Ahk, Tee Grizzley's My Moment, Tay-K's Santana World.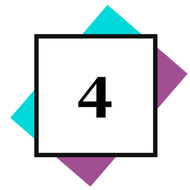 This debut release was delayed for years, long enough that the common line on Playboi Carti was that he was just a pretty face, more interested in social clout than a proper recording career. You could argue this mixtape doesn't prove otherwise. These are not-quite songs. The beats are good, and the ad libs often amalgamate into a scratch of phrases and hooks. Sometimes, it's more like they're teasing the drums, or hiding from them. You imagine Carti in the studio, laughing that this music is being made. Or you imagine Carti in the studio feeling more than serious, legitimately and religiously consumed by saying "wop, wop, wop," 3,000 times. Like monks who chant in rounds or the white noise of an ocean, it's an enveloping vibe. In the sales bulletin for his record store, the critic Andrew Nosnitsky wrote, rightly: "Probably disposable in the long term but essential for the moment which is true of more great music than most are willing to admit."
Also great in no-shame punk: BROCKHAMPTON's Saturation II, SahBabii's S.A.N.D.A.S., Smokepurpp's Deadstar.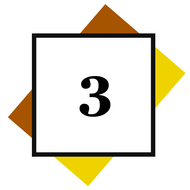 Yes, Kendrick Lamar has mastered rapping, and like no other, possesses the ingredients for making good music: Charisma, Substance, Lyrics, Uniqueness, and Work Ethic. How can someone so alone in the conditions of his life and his heights as a storyteller be fluent enough in the rest of our tastes to win over a whole year of radio rotation with a taunt ("HUMBLE"), an attack ("DNA"), and a ballad ("LOVE")? When no one on Earth deserves your faith, and after a song like "DUCKWORTH," how do you find a way to do even better? Our fates are so often the subject of chaos. Success can sometimes seem immaculately conceived. Sometimes it's painfully earned. Kendrick Lamar's is both. Have we ever seen a reign so sustainable?
Also great in prophets: Vince Staples's Big Fish Theory, IDK's IWASVERYBAD, Kodak Black's Painting Pictures, Smino's blkswn.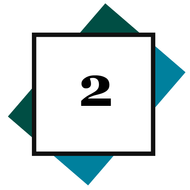 The Migos were sometimes acknowledged for their contributions (an oft-borrowed triplet flow, the dab), but they were not recognized for genre dominance or nominated for Grammys until "Bad and Boujee," which became a No. 1 pop single in the first week of 2017, after months of streaming and social media success. Expertly built from a series of repeated exclamations, "Boujee" also works like a six-minute group meditation, bringing together crowds to shout the same infectious syllables in unison, as resolutely as the Migos would. The success of that single altered the group's fortunes. In its wake, de facto front man Quavo has gone on to become a go-to garnish for pop songs (Calvin Harris's "Slide," DJ Khaled's "I'm the One"), and melody specialist Offset has become rap Cinderella Cardi B's fiancé. Takeoff was not left off of anything. Thankfully, before they ran off in different directions, the trio finished Culture, an album that's a definitive showcase of their talent, and a cocoon for it. On it, all three Migos are at the height of their powers. The key is mostly minor, and there's not one bad song. In 2017, rappers endlessly compared themselves to rock stars, and like the rock stars of yore, the Migos travel endlessly and spend most of their time with strangers. In Quavo's words: "All this pain, we can live through it. It's called success." That line is from "Out Yo Way," the album closer, which testifies to the crucial role the matriarchs of the Migos family played in the group's success. "Mama told me stay strong, Grandma told me stay on," Quavo sings. That foundation of family and whole love is what Culture refers to, and it's why I'm as confident as the Migos themselves that they'll continue to thrive.
Also great in heavy-hearted elegance: Lil Baby's Harder Than Hard, 21 Savage, Offset and Metro Boomin's Without Warning, Mike WiLL Made-It's Ransom 2, Gunna's Drip Season 2, Future's Future/Hndrxx.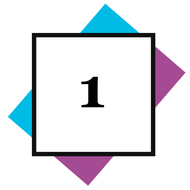 Just after Labor Day, Luv Is Rage 2 debuted on the Billboard 200 chart at No. 1. In traditional sales it moved just 28,000 units, but its tracks were streamed on-demand more than 150 million times in that first week alone. I imagine many of those streams came from listeners like me, who shuffled through the album, skipping some songs and replaying others obsessively. Behavior like that is conventionally understood as a marker of a bad album, and many hit albums of this moment in streaming do feel cynically bloated, built more to accumulate plays than to last. In Uzi's case, though, the highs add up to more than the sum of their parts. For years, we've seen pop stars pack their songs with what are essentially multiple hooks; so many single Taylor Swift lines can be heard as refrains. Uzi one-ups this approach, making the structure of his songs even more unpredictable. Is the intro that starts "444 + 222" a verse or a hook? Why does the song end on a bridge? It doesn't matter.
This is also, for me, the most compelling example of rap's present and near future: a style that's emo and grunge-influenced, at turns soft, dark, and catchy. Like the Hot Topic emo that came before it, this strain of rap often mingles angst with misogyny, or the sickness of addiction. (It's notable that 2017 produced a surging tide of promising new rappers, and many of them were women. But those women rarely got the chance to make albums with big label backing, or run up the charts. This can change, if more labels commit more money to developing the careers of women who rap, and then land those women on the industry's crucially important playlists.)
Luv Is Rage 2 is a breakup record, and Uzi is unabashedly melancholy throughout. "I don't like being famous," he told Zane Lowe in August. On hit single "XO Tour Llif3" he revels in a toxic relationship, feeling gross and untouchable. On its counterbalance "The Way Life Goes," he offers the possibility of a happy ending, via karaoke of an old song by pop duo Oh Wonder. Generation bridging "Neon Guts," with Pharrell, is perhaps the best-to-date articulation of what we mean when we talk about "rap" today, the term encompassing a lifestyle more than any traceable sound. Nailing it down: Power is riding on planes with J Balvin, owning as much or more of your brand as your label does, and being able to manage your mood well enough that the glittering halo of all the fashionable shit you have feels more vivid to you than your worst feelings do. On the one hand, that vision of unbound authority is intoxicating. On the other, for everyone who's still trying to outrun hardship, it's chilling.
Also great in deeply felt rock rap: Tyler, the Creator's Flower Boy, Ty Dolla Sign's Beach House 3, Rico Nasty's Sugar Trap 3, Lil Peep's Come Over When You're Sober, Young Thug's Beautiful Thugger Girls.