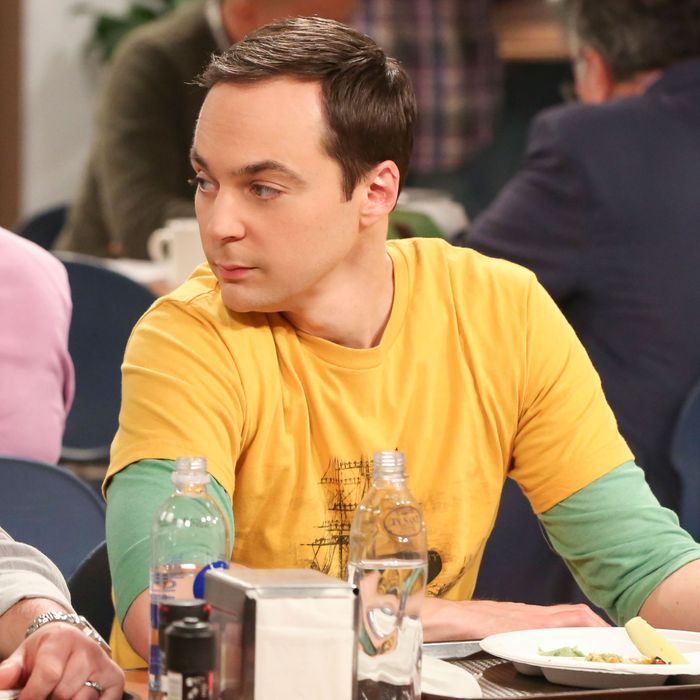 Photo: Michael Yarish/CBS
It's Amy Farrah Fowler's birthday, and she'll hurl if she wants to.
The bad news is that it's a gift from Sheldon that leads Amy to spend her birthday eve giving her regards to ol' Broadway, if you know what we mean. The good news is his intentions are thoughtful and completely unselfish, sentiments that cannot always be ascribed to Sheldon.
In honor of Amy's love of Little House on the Prairie, he whips up an authentic frontier meal, complete with home-churned butter, freshly baked biscuits, and dining by candlelight. Amy is giddy when she comes home to her surprise old- (old, old) school dinner, and after supping, she and Sheldon retire to the sofa, where he says it's time to pitch some woo.
But thanks to the vagaries of the authentic preparation of either boiled pork fat, chewable tree sap, or something Sheldon calls "frontier scallops," he and the future missus start feeling some rumbling in their tummies. He tries to dismiss it at first as the "first sharp cramps of arousal," but soon any thoughts of their traditional annual birthday coitus go right down the toilet, along with … everything else.
Amy's not the only birthday girl spending her big day spitting up: Halley Wolowitz turns 1 year old, and bedridden, pregnant Bernadette assumes her hubby has the party preparations under control. In fact, he's done nothing, including finding any playmates for Halley, because he's been taking her to see movies he wants to see instead of going to the Daddy & Me classes he's been telling everyone they're attending. He turns to Stuart for help, which is fruitless since Stuart, the Eeyore of the group, says he's never even invited to parties, let alone in the habit of planning them. Plus, there's an opening for a colonoscopy at the free clinic, and how's he gonna pass that up?
That leaves Howard no choice but to turn to Raj, the BFF he's fighting with, the one he rudely didn't invite to Halley's party even though Raj is her godfather.
Raj pitches a fit, but then he caves and pitches a bouncy castle for Halley, along with a backyard full of pink balloons and decorations. To say he and Howard ultimately make up is an overstatement; they share some pushing, shoving, and seat drops in the knockoff Wonder Woman bouncy castle, but the tension and hurt feelings remain. Has their relationship changed forever? Will it simply take more time for them to forgive each other and maybe begin to treat each other with more respect? Or will this whole blow-up blow over by the next episode? Here's hoping it's option No. 2. If Sheldon can evolve to put his propensity for selfishness aside to create a special, Amy-centric day to celebrate her birthday, shouldn't Howard and Raj have the chance to show maturity in their relationship, too?
Meanwhile, in the Hofstadter homestead, Leonard is freaking out because he and Penny receive his brother's annual Christmas newsletter, and his sibling's many impressive accomplishments (dude built a hospital in Rwanda!) leave Leonard feeling lame in comparison. He and Penny haven't taken any trips — they thought about going to the beach one day, and the mountains another day — or made any major moves forward. The best they come up with as fodder for their own Christmas letter: They're both "still employed" and "still married," and Leonard built an Ikea desk.
It's no Rwandan hospital, but sometimes those instructions are confusing, and there's a screw missing.
THEOR-EMS
• Howard on Halley's big first birthday: "We're not doing anything big. She's … Bernadette's on bedrest, and I'm … lazy." And, at least, honest.
• Sheldon is excited to see The Last Jedi for a second time. "It'll be nice to see the parts I missed while I was blinking."
• Leonard's feeling pretty proud of his joke about Sheldon's plans for birthday coitus, which, like authentic prairie life, he guesses will be "exhausting and short." "You're exhausting and short," Sheldon replies, a burn so on the money that even Penny has to laugh.
• Her birthday dinner is happening on her birthday eve, and Amy says she's so excited about Sheldon's efforts that she doesn't know if she can wait until midnight for birthday coitus. "Well, you'll be glad you did," Sheldon says. "Everyone knows the best foreplay is rigid adherence to a strict schedule."
• The beginning of the 19th-century bawdy limerick Sheldon reads to Amy: "There once was a priest from Terre Haute, who purchased a sheep and a goat …" He was interrupted by sudden-onset stomach distress for Amy, and it feels like a win that we were spared whatever bawdy destination began with a goat.
• Sheldon's summation of Amy's birthday dinner: "Those books should have been called Little Outhouse on the Prairie."