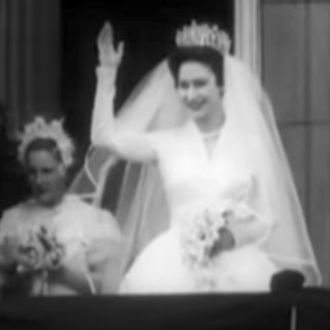 One of the benefits of watching a period drama that takes place during the era of TV is that we have lots of historical footage from the real events of The Crown's second season. It's fun to think about what The Crown fictionalizes and what it takes directly from the historical record, and it's even more fun to watch the actual footage and think, "Wow, they re-created that dress exactly."
To fulfill all your costuming and staged photo-op needs, here is some newsreel footage of the actual events from season two of The Crown. Unfortunately, there are fewer corgis than you might like.
The Suez Crisis
There's an entire BBC documentary on the Suez Canal situation that's available on YouTube for your edification. You can also watch Anthony Eden's 1956 speech where he announces the government's intervention. He believes that eventually everyone will believe he's acted wisely! Sorry, bad news on that, Mr. Eden.
Philip in the Antarctic
Unfortunately, there's not much footage of Philip on the Britannia, bearded and sad. But you can watch him arrive in Melbourne in 1956, and you can watch him tour a museum exhibit of artifacts from earlier Antarctic explorers from 1957. The matches still work! They did not make him eat the canned food, though.
The first televised Christmas broadcast
[Very Elizabeth voice] Heppy Christmas! Cheerful aristocratic intonation aside, it's remarkable to watch the real version of this Christmas speech, and to watch Queen Elizabeth say things like, "it's inevitable that I should seem a rather remote figure to many of you" to her subjects. It's even better to watch side by side with The Crown's version of the same broadcast, and to consider Foy's presentation of Elizabeth's nerves and her resentment at having to do the broadcast at all.
The Ghana dance
The dramatic dance scene in Ghana feels like one of the most unexpected, fictionalized moments from the second season. Queen Elizabeth saves the international relationship with Ghana by… dancing? And it's a big controversial moment, apparently? Some of The Crown's framing is fictional — she did not go because she was jealous of Jackie Kennedy. But the dance was real! While the dance itself was not filmed, the ceremonial greeting was shot very carefully, and it's one of the scenes where you can see The Crown's meticulous attention to costuming.
Billy Graham
Graham toured England several times, calling each trip a "crusade," and preaching throughout the U.K. He had a longstanding relationship with Elizabeth throughout the 20th century, which you can read about from his own memories. There's no video of his private preaching to Elizabeth, but there's plenty of footage of him on one of his earlier London crusades in 1954.
Birth of Prince Andrew
Andrew's birth in 1960 gave the newsreels plenty of opportunity to reuse idyllic family footage of the royal family from throughout the '50s. The birth announcement includes dozens of shots of Elizabeth and Philip getting married, petting ponies with the children, seated on the grass with a baby Charles, Charles playing cricket, and yes — corgis. It's a great bit of historical royalist propaganda, somewhat confusingly titled "The Queen A Boy."
Margaret's wedding
Of all the highlights of season two, the biggest bounty of historical footage is the coverage of Margaret's wedding. You can watch nearly the entire ceremony and scrutinize her fantastic veil (some of the footage is in color!). You can marvel at the footage of people who slept in the street the night before so they could see her. You can watch it all while recalling that Tony couldn't have the best man of his choice, Jeremy Fry, because Fry had been convicted of a "minor homosexual offense" only a few weeks before, and may or may not have been Tony's lover!
Prince Charles goes to school
One of the most devastating episodes of season two, "Paterfamilias," deals with Charles's admission to Gordonstoun for several years of humiliation and torture, in order to live up to his father's idea of manliness. It makes this chipper newsreel incredibly disconcerting to watch, as it presents a smiling Charles standing on the steps of his new school, flanked by his happy parents. The announcer portrays Gordonstoun as a beautiful respite from the real world, where cheerful young men climb across ropes over the river and go sailing on the ocean. Charles's opinion of the place was significantly less enthused.
If you'd like even more historical perspective on "Paterfamilias," there's a 40-minute documentary on Philip's childhood and his grooming for marriage to Elizabeth available to stream on Amazon Prime.
Profumo affair
You could be forgiven for coming away from The Crown without much understanding of what the Profumo affair actually was. The series focuses heavily on the stuff that's not especially well-proven – namely, Philip's potential involvement. But fear not: There are plenty of supplemental materials to catch you up, should you so choose. There's a summary of the affair on its 50th anniversary. You can watch Stephen Ward's statement on the subject. There's an interview with Christine Keeler from 1980. But my favorite is actually a newsreel on the Denning Report, the official results of the investigation into whether state secrets had leaked. People were so excited to read it they showed up at midnight, like it was a new Harry Potter book! Watch for the crowds of people excited to read about a sex scandal; stay for the unbelievably glib "all in the clear" soup joke.