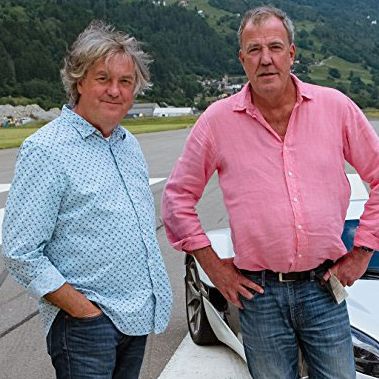 If you ask anyone why they enjoy watching The Grand Tour — or the BBC's original iteration of Top Gear — you'll hear a lot about the cheeky chemistry shared between Jeremy Clarkson, Richard Hammond, and James May, but not so much about the actual motor vehicles. "Top Gear's not really a car show. It's a social and travel show," Clarkson recently explained to Vulture.
That's why, when The Grand Tour debuted on Amazon last year, it was surprising that the tried-and-true formula of the chaps palling around and causing mischief was chopped into something far more scripted. (More so than the past, anyway.) Prominent celebrities were "killed" in a recurring segment known as "Celebrity Brain Crash." An American driver with an exaggerated southern accent painfully grumbled about European super cars while doing laps. Trips to foreign lands — such as Jordan for a military exercise — played out more like half-baked That Mitchell and Webb Look sketches as opposed to insightfully silly commentary.
Reinvention — or required reinvention, as Clarkson was fired by the BBC after punching a Top Gear producer in 2015 — takes a while to hit its stride. When The Grand Tour debuted its second season last week, it came as a pleasant discovery that all of those dodgy elements were discarded in favor of some quintessentially classic Top Gear stylings. The message was clear: If it ain't broke, don't fix it, even with Amazon's massive influx of funds. Here are the three pieces of the show that got a much needed tune-up.
Celebrity competitions
Of course, everything trademarked by the BBC is still a no go: the Stig, Star in a Reasonably Priced Car, and so on. But in place of that cooly received "Celebrity Brain Crash" segment — as Hammond put it in the season premiere, "You all hated it" — "Celebrity Face Off" finds two stars with an unusual connection racing against each other in Jaguars on a conventional racetrack. David Hasselhoff and Ricky Wilson, for instance, squared off in the premiere to see who was the fastest former talent-show host, while a future episode, Clarkson told Vulture, will see Nick Mason and Stewart Copeland competing for the title of fastest rock drummer. As with Top Gear's "Star in a Reasonably Priced Car" segment, Clarkson and the guests delightfully banter about this, that, and the other before the lap times are revealed.
Actual racing
A normal racetrack, test track, and stars' timed laps didn't exist last season with the ridiculously wonky "Eboladome." Thank the new stationary tent in England's picturesque Cotswolds for this revived racing element — traveling from country to country in the first season hindered the idea from being a possibility. It's a very welcome change: Frankly, the euphoric faces of celebs smooshed into racing helmets while cruising around 100 mph will trump fake "Celebrity Brain Crash" bits any day.
Essential personnel only
What's more, the stereotypical American race driver is no more — the time he would've been given in the premiere is instead allocated to the trio for their "Conversation Street" segment — and an upcoming trip set in Croatia will be entirely devoid of a basic script at all. The conclusion is simple, really: Bigger isn't always better. There's a reason why 300 million people across the world tuned into watch three middle-aged men bicker about cars and complete unorthodox challenges on Top Gear, and it wasn't just for the cute sketches.