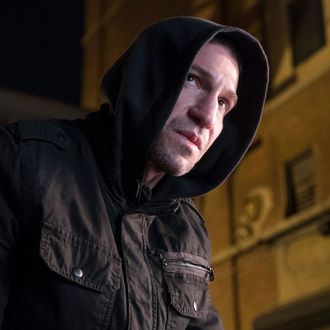 There'll be no gun control for Frank Castle anytime soon.
Photo: Nicole Rivelli /Netflix
Looks like Frank Castle's gonna need a bigger arsenal: Netflix has renewed Marvel's The Punisher for season two. Although New York's most feared gunslinging antihero and former Marine (played by your crush Jon Bernthal) — spoiler! — avenged the deaths of his wife and children and cleared his name in season one, there's plenty more blood to be shed. According to a press release, the Punisher will now turn his attention to New York's corrupt criminal underbelly after realizing he "must discover the truth about injustices that affect more than his family alone." Who said sweet revenge had to be personal?