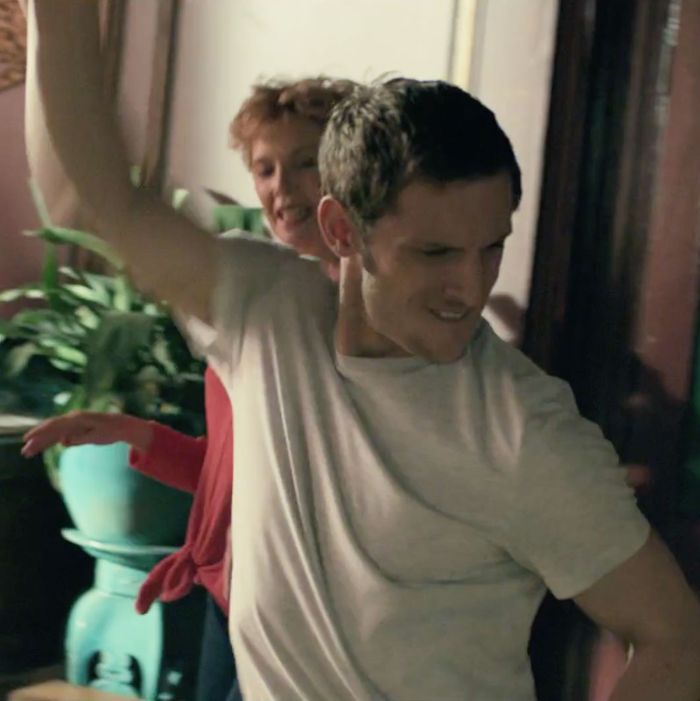 Photo: Sony Pictures Classics
When we first meet Hollywood icon Gloria Grahame in the biopic Film Stars Don't Die in Liverpool, it's the 1970s, and she's living in a U.K. actors' boardinghouse. But that doesn't mean the former screen femme fatale, played by Annette Bening, has lost any of her powers of seduction. So when Grahame asks her handsome young new housemate Peter Turner, played by Jamie Bell, to do the "Hustle," he's more than happy to bust out his best moves. Since their Saturday Night Fever–inspired scene is one of the film's most memorable standouts, we asked director Paul McGuigan to take us through the steps that went into Bening and Bell strutting their stuff.
The disco-dance scene was pure invention.
In reality, Turner, on whose memoir the film was based, says he first spoke to the 55-year-old actress when the four-times-married Grahame asked the 26-year-old if she could borrow a shirt, and later, five pounds. By that point, she was working in the theater because, as the film's landlady notes, Grahame was "a big name in black-and-white films [but] not doing too well in color."
Breaking down the "boogie-oogie."
Though McGuigan sought out Turner's input for some of the late-'70s songs he and Grahame listened to, the director knew music from the Saturday Night Fever soundtrack would be too rich for his low budget. He also needed the track in advance, so the actors could really dance to it. A child of the '70s himself, he remembered a Taste of Honey's "Boogie Oogie Oogie," which transported him back to that era — and which he could afford. Bonus: The all-girl group's song fit in well with his use of an all-female film crew — from producer Barbara Broccoli, director of photography Ula Pontikos, and production designer Eve Stewart, to costume designer Jany Temime, casting director Debbie McWilliams, and hair-and-makeup artist Naomi Donne.
The improvised scene was shot somewhat unconventionally.
Because McGuigan hadn't a clue what was going to happen during the Bening-Bell dance, he had his director of photography Ula Pontikos follow the couple with a handheld camera — outfitted with uncoated lenses made especially for the scene "to keep it alive and unpredictable." His goal was to let in lots of light that would bounce around and reference the look of a '70s discotheque.
The standby choreographer never busted a move.
Bening and Bell — who jetéd his way into our hearts 17 years ago in Billy Elliot — truly boogied down for the scene. And they did it without the help of a dance instructor — though McGuigan had one on hand just in case. "When you've got Billy Elliot as your leading man," he says, "you probably don't need one." Bell went to his trailer ten minutes before the scene, checked out some scenes from Saturday Night Fever, and came out ready to display his best John Travolta swagger. As for Bening, she checked out YouTube, and after McGuigan let her know he had a choreographer on standby, he says she replied: "You tell me if I need her or not — I'll just dance." After that, the director simply let them go because "I was fascinated myself as to what was going to happen." The result was an all-out effort by the two stars — including Bell discarding his sweater and doing a split — and the scene was in the can after only two takes. Their all-out effort also eliminated the need for several other scenes leading up to their May-December affair. "The economy of dance," McGuigan says chuckling.