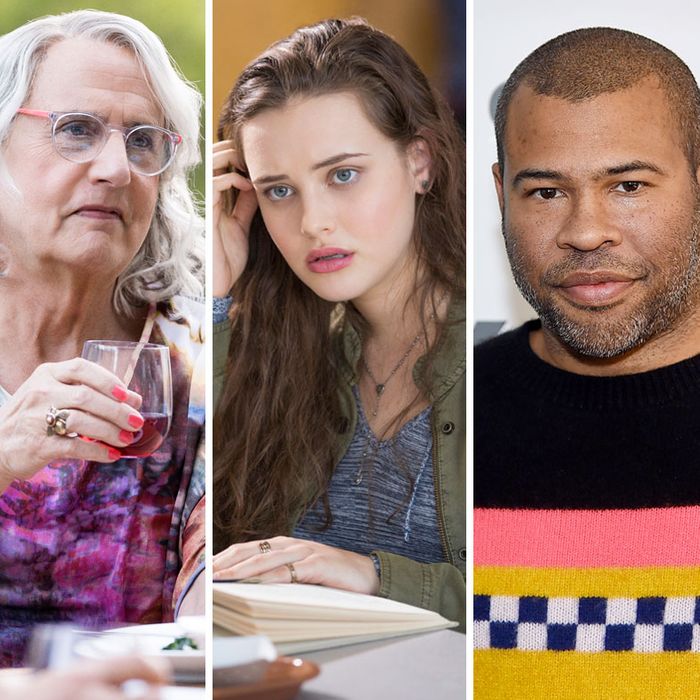 Films like The Shape of Water and Three Billboards Outside Ebbing, Missouri as well as TV shows like The Crown led the Golden Globe nominations today, as chosen by the Hollywood Foreign Press Association. As always with this eccentric group, there tend to be some left-field inclusions and surprising snubs, and buzzed-about movie contenders like Get Out, Lady Bird, and Call Me by Your Name were each walled off from crucial categories. As for the TV side, while the boat in the Best Drama category was barely rocked — as predicted, all the shows nominated last year were nominated again, with The Handmaid's Tale filling the slot vacated by Westworld — a number of new faces popped up in the acting categories in both genres, and the comedy category looked somewhat different than it did last year. Here are some of the standout nominations and galling snubs we noticed.
MOVIES
There was a bloodbath in Best Director
Three of the buzziest helmers this season were shut out of the Globes' Best Director of a Motion Picture category: Lady Bird's Greta Gerwig, Get Out's Jordan Peele, and Call Me by Your Name's Luca Guadagnino. I would be startled if at least two of those didn't make their way into Oscar's final five, but the Globes instead favored blockbuster helmers like Steven Spielberg, Ridley Scott, Christopher Nolan, and Guillermo del Toro, saving their last slot for Martin McDonagh, whose dark comedy Three Billboards Outside Ebbing, Missouri scored in nearly every category it was able to today.
The Globes saw All the Money In the World first and they want you to know it
Ridley Scott has been racing to get his reshot version of All the Money in the World out the door after replacing scandal-ridden star Kevin Spacey with Christopher Plummer at the eleventh hour. The very first group to see the film was the Hollywood Foreign Press Association (almost everyone else will have their first peek this week), and the group responded robustly, offering Golden Globe nominations not just to Plummer but to female lead Michelle Williams, as well as Scott in Best Director. It's a little eccentric for Scott to crack that category over Peele and Gerwig given that the film itself wasn't nominated for Best Drama, but I suppose you can't argue with what he just barely managed to pull off.
The Greatest Showman came on strong
As noted by critic Guy Lodge on Twitter, The Greatest Showman scored more Golden Globe nominations than Get Out. (Globes gonna Globe!) The Hugh Jackman–fronted musical or comedy scored film and actor nods as well as a song nomination for "This Is Me." Speaking of that song category…
Sufjan Stevens was snubbed
Stevens delivered two moving songs for Call Me by Your Name — "Mystery of Love" and "Visions of Gideon," the latter of which plays over one of the most indelible film moments of the year — and neither was nominated for Best Original Song. At least that sadness you're feeling now puts you in the exact right mood to listen to more Sufjan Stevens.
No love for Jennifer Lawrence
Look, Mother! isn't designed to be the easiest award-season sell, but it's still significant that its strongest shot at putting some points on the board — a nomination for Jennifer Lawrence in Best Actress in a Drama — didn't come to pass even though the Globes have previously given her three wins and would no doubt love a classic J.Law moment on their telecast. Lawrence and director Darren Aronofsky may still dutifully continue their campaigning, but this ship has sailed.
Get Out and Call Me by Your Name were snubbed in screenplay
Two screenplays that could very well win Oscar's original and adapted categories, Get Out and Call Me by Your Name, somehow missed the all-in-one screenplay category at the Globes. What does this mean for their continued Oscar chances? Not too much, to be honest: I think the Get Out snub will only fortify the voters who want it in the Oscar race, and Call Me by Your Name writer James Ivory is still a near-lock to prevail in the slim adapted-screenplay race at Oscar. It's worth noting, too, that the winner in this Globes category just two years ago, Aaron Sorkin for Steve Jobs, didn't even go on to an Oscar nomination. (And Sorkin was among those nominated this morning, this time for adapting Molly's Game.)
Darkest Hour and The Big Sick could use some resuscitation
Gary Oldman's prosthetics-aided performance as Winston Churchill has been one of the most talked-about turns this season, but his movie is having trouble rallying passion: After so-so returns in limited release, Darkest Hour managed to earn no nods besides Oldman this morning. Maybe there's such a thing as an award-season contender being too conventional? I'm bummed to also report that The Big Sick, one of the year's best movies, couldn't score a single Golden Globes nomination despite this award show laying out separate comedy categories. Amazon will have to beat the drum a little louder so this summer hit won't be overlooked by Oscar.
TV
Lots of love for The Marvelous Mrs. Maisel
In keeping with the Hollywood Foreign Press Association's tradition of honoring the freshest television, Amy Sherman-Palladino's charming series was nominated for Best Musical or Comedy, and star Rachel Brosnahan was nominated for Best Actress in a Musical or Comedy.
The HFPA is also super into SMILF
The Showtime series, another newcomer, was also nominated for Best Comedy, while Frankie Shaw, star and creator of the half-hour portrait of a Boston single mom, was recognized in the Best Actress in a Comedy category. This was a bit more of a surprise than Mrs. Maisel's showing was.
Julia Louis-Dreyfus, and Veep, were snubbed
For the first time since she started playing Selina Meyer, the star of Veep was not nominated for Best Actress in a Comedy. Veep also was left out of the Best Comedy race.
Also snubbed: Jeffrey Tambor and Transparent
The controversy surrounding the sexual-assault allegations about Tambor may have been a factor, or they might not have. Either way, Tambor was overlooked, and so was the show, for the first time since it debuted on Amazon.
The Foreign Press had 13 reasons to nominate Katherine Langford for Best Actress in a Drama
Okay, I don't know if they had 13 reasons. Maybe they only had one or two really good reasons. Either way, the star of 13 Reasons Why was nominated for her first Golden Globe in one of the morning's bigger TV shockers.
It was a good day for Jessica Biel
She was nominated for her work in The Sinner, and the show was honored as Best Limited Series. Can she possibly win over Nicole Kidman, Reese Witherspoon, Jessica Lange, or Susan Sarandon? It's the Globes, man. Anything is possible.
It was also a good day for Jason Bateman and Freddie Highmore
Both were nominated in the Best Lead Actor in a Drama category, for Ozark and The Good Doctor respectively. Which I, for one, did not see coming.
For some veteran comedy actresses, the Golden Globe nominations were less exciting
Tracee Ellis Ross, who won the Globe for Best Actress in a Comedy last year, didn't make the cut this time around, though her Black-ish co-star Anthony Anderson and the series itself were nominated. Rachel Bloom, who won in the lead actress in a comedy category the year before and was nominated again last year, was also snubbed.
Apparently the HFPA likes Will & Grace, and also Will, but not Grace (or Jack or Karen)
The revival of the NBC sitcom, a favorite of the Globes in its original run, was nominated for Best Comedy, and Eric McCormack managed to get a nod for his work on the show. But co-stars Debra Messing, Sean Hayes, and Megan Mullally were cast aside.
Nothing for the Game of Thrones cast
The show was nominated once again for Best TV Drama, but its actors were completely overlooked.
No Twin Peaks: The Return in Best Limited Series?
Kyle MacLachlan was recognized for his portrayal of Dale Cooper (and evil Dale Cooper, and Dougie) on Twin Peaks. But the show was omitted from the best limited series category, possibly because the HFPA needed to make room for Top of the Lake: China Girl and The Sinner. That's fine, HFPA. But just know you're taking your chances by ignoring this guy.